10 Jun

The Meaning of Endurance (Sunday Service 9/27/09)

BOND Sunday Service, September 27, 2009: Jesse Lee Peterson asks people about the assignment from last week: What's your thorn in the flesh? We talk about endurance. Then we talk about instances between whites and blacks, and the dishonesty and unfairness in how whites are treated. 

The world thinks Affirmative Action, which is discrimination against qualified white Americans based on race, is a good thing. But it's not "equality," and it only breeds suspicion and resentment. But individuals and businesses have a right to discriminate. Why would you want to force your way into a place that you're not welcome? That's not love. You can't make people love you. It doesn't make sense. But when you're angry, you do illogical things. 
Clips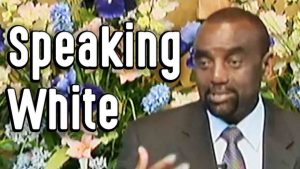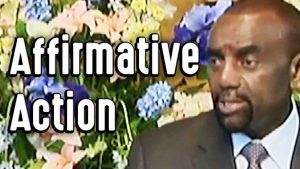 Links
PODCAST: Apple | Spotify | Castbox | Podcast Addict | TuneIn | Stitcher
VIDEOS: Sunday Services (2008-2009+) | Church with Jesse Lee Peterson (2016-present) 
LIVE: YouTube | Facebook | Periscope | DLive 
SILENT PRAYER: SilentPrayer.video | Audio on SoundCloud
BOND
CHURCH rebuildingtheman.com/church 
COUNSELING rebuildingtheman.com/counseling 
MAILING LIST rebuildingtheman.com/subscribe 
STORE rebuildingtheman.com/stores 
DONATE rebuildingtheman.com/donate 
CONTACT: 800-411-BOND (which is 1-800-411-2663) or 323-782-1980