15 Mar

What Is an Imperfect Man? (Church 3/15/20)

Church with Jesse Lee Peterson, March 15, 2020: Happy Coronavirus Day! Don't freak out buying up all of the toilet paper and food. Jesse deals with several people about their family relationships. One father of two sons is afraid to face his mother! Biblical Question: What is an imperfect man? Have you ever said, "I'm not perfect… nobody's perfect"? What does that mean? Is it a sin to curse/cuss? The anger causes you to break the Ten Commandments. Overcome the sin, and there other things will fall away. What is "the God of the Bible"?  
Clips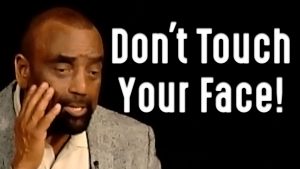 CLIP: Happy Coronavirus Day: Don't Touch Your Face. (10 min.)
Announcements
We have our Women's Forum third Thursday of the month, this Thursday, March 19, 2020, at 7 PM at our current location, BOND, 6146 W Pico Blvd, Los Angeles, CA 90035. 
Thank you for the support! We're continuing to look for a new building here in Los Angeles where we've been for over 30 years! 
Links
Church with Jesse Lee Peterson streams live video Sunday 11 AM PT. Join us in-person 10:30 AM at BOND in Los Angeles https://rebuildingtheman.com/church 
LIVE: YouTube | Facebook | Periscope | DLive | Twitch | Mixer 
PODCAST: Apple | TuneIn | Stitcher | Spreaker | SoundCloud | Spotify | Google | Deezer | Castbox | Podcast Addict 
SILENT PRAYER: http://silentprayer.video | AUDIO https://soundcloud.com/rebuildingtheman/silent-prayer 
COUNSELING at BOND http://rebuildingtheman.com/counseling or call 323-782-1980 
MAILING LIST http://rebuildingtheman.com/subscribe 
BOOKS http://bondinfostore.org