06 Dec

12/06/20 Alcoholics, Narrow Path, Silent Prayer, Women (Church)

TODAY'S SERVICE: YouTube | Facebook | Periscope/Twitter | Audio podcast at links below

Church with Jesse Lee Peterson, Sunday, December 6, 2020: Many people ask questions, some about personal struggles with drinking alcohol. Few will take the narrow road; so many do not do the Silent Prayer morning and night; pray without ceasing. Endure the pain. Do not judge yourself. What's the difference between faith and belief? The intellect is deceptive — all ego. One man tells a horror story about a live-in ex-girlfriend who would not leave. New Biblical Question: Why shouldn't men allow women to take over? 
TIME STAMPS
0:00 Stream start

1:23 Questions: Live forever?

5:05 Do people overcome homosexuality?

7:38 Fear comes from anger

13:09 D'Angelo (sp)

18:47 Social drinker(s)

27:45 Follow-up: Struggles

31:29 Take life more seriously

41:04 Few take the narrow road – CLIP: Most Will Not Take the Narrow Road (6:49)

47:42 Why don't you pray?

1:03:15 Difference: faith vs belief?

1:12:20 The answer: Faith vs belief

1:16:44 Other great feedback and Qs

1:23:40 If– by Rudyard Kipling

1:29:45 Horror story: live-in GF – CLIP: Men, Do Not Get a Live-in Girlfriend! (7:31) 

1:37:25 New Biblical Q

1:42:00 Closing comments, revisiting

1:48:24 Support BOND
Opening questions
At the beginning of Church, Jesse takes a number of questions from guys who joined us. 
A 26-year-old man asks about living forever. Levi is 18 and living forever. We were not created to die. 
A man asks about people overcoming homosexuality. It's not who they are. 
Anger does not come from fear. Fear comes from anger. A man makes the mistake of using the term "significant other" instead of husband, wife, fiancé(e), etc. If you did not have anger, you would not be afraid of losing something. The spirit of anger enters you. As a little kid, you do not have anger. He reads about how there is no fear in love; but perfect love drives out fear. 
Personal struggles
A first-time visitor D'Angelo, age 31, watches Jesse on Sundays after finding Jesse on YouTube after the "Corona" shutdowns. His mother and father watch Jesse — he forgave them both. His mother when he was 12 let him see his father when he asked, I think he said. He asks about people who recognize that Jesse tells the truth, but still into wrong things. He does not consistently do the Silent Prayer. Do the Silent Prayer, and do not judge yourself. Asked if he's a slutmaker, he says with only one, his monogamous "slut." 
A young lady says she's been socially drinking. Some people stop the Silent Prayer. They should never stop; pray without ceasing. She drinks "every other weekend." She's struggled with drinking and smoking weed in the past. She was disappointed in herself; she was doing well and fell back, and feels like she ruined her "testimony." Jesse repeatedly asks why she was disappointed. Samuel encourages her to stop judging herself over it. You can't judge it. It's enough to know you want to overcome it. But you cannot play god. (You're not God.) Are you doing the Silent Prayer? Not consistently! 
The lady continues discussing the Silent Prayer. Some people put a timer on it! Satan wants you thinking about the time! Millennials! 
You're making yourself more attracted to drinking by playing god about it. Don't judge yourself. We cannot judge ourselves, anyone, or anything. But be aware
A young black man follows-up with a question: What is confidence? It's fake. He would try to achieve confidence. 
A young lady joins us with her husband after a time away. They took a road trip. She just found out that she's pregnant! 
More 'alcoholics' talk
A couple of other ladies greet Jesse as well. Jesse asks one: Have you gone to your mother to forgive her? "I would say yes." She drinks Jaeger or White Claw, because they give her energy. She also smokes pot, "medicinal… weening off…" She says that it gives her energy and puts her in the zone. She does not live with her boyfriend; she lives with her ex-fiancé. She wants to stop. Go forgive your mother and your father. She "checked out" the Silent Prayer, but does not do it, and says, "I need to come back to it." 
Jesse encourages her to take life more seriously. She said that she was miraculously healed July 24th from all of her anger and frustration. But Jesse contradicts her, saying that if she were, she would forgive her mother and father. Do the Silent Prayer, and whatever else too, so that you can see the right way to go. 
A young man gets drunk every day (he cusses in church by accident). 
The narrow path… Do the Silent Prayer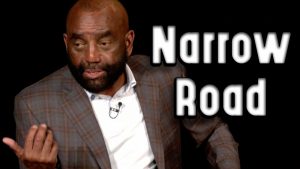 God said that the road is straight and narrow. The wide road leads to destruction. The narrow road is a little difficult to take if you're not ready. If the ego does not die right away, then people give up, because the ego will not let you be still. Overcome the anger to enter the kingdom of heaven; it's the nature of Satan; it's evil; there's no love in it. God will not let you into the Kingdom with it. 
Many are unwilling to lose their family and friends. They're not your real family or friends anyway. Be glad to see that. God will put decent people in your life. 
Jesse is stunned at the number of people who are not doing the prayer, thinking that they have it. Satan has convinced them that they're just aware all day anyway. God says: Pray without ceasing, because He wants to bring you to a higher level of consciousness, instead of the lower level of consciousness. Suffer and die. 
Anyone who has anger is evil, and cannot be trusted. You cannot trust an angry person; they will turn on you at some point. Anyone who has anger is playing god, judging. Anger is hatred. They've renamed it to resentment to anger, to make it sound better. Satan is your daddy. 
The Kingdom of Heaven is within; everything you want and need is inside of you. 
Hearing from people who do not do the prayer
One man who joins us regularly admits he fell off from doing it. It's going to get worse. 
Esteban speaks on why he fell off — he felt confident when things started working, like he was close with God. A father and his son Levi talk — the father says he does it, but Levi says he gets lazy at night. Only a few will enter the Kingdom of Heaven. 
Samuel talks about how people's thoughts may tell them to speculate on women or car accidents. 
Don't do the Silent Prayer with any expectation at all; go back to it because you want to be one with the Father. You can't have an agenda. Satan will steal your soul and destroy you, otherwise. Once you see the warfare inside of you, you will recognize it in others. 
What's the difference between faith and belief? 
Jesse asks: What's the difference between faith and belief? 
After some feedback and other conversation, we answer: Belief is in the intellect, ego, not real. Faith cannot be shaken. 
More questions and comments
Jesse answers a Periscope question: Jesse, what should I do when I try to correct my wife, and she says, "I thought you had love." 
The intellect is so deceptive, that you can repeat what sounds like the truth, but not know what you're talking about. Forget about what you've learned. Let it go. It's a living word. (A "mama" lady said she's "anti-censorship" and wanted to hear what he had to say. No! He needs to get over his ego.) 
Jesse has Cheryl read the poem "If—" by Rudyard Kipling. Thank you to the man who framed it and sent it to Jesse this week! The pain is for your ego dying. You want to be in the world and not of it. You must take the pain. 
A horror story about an evil woman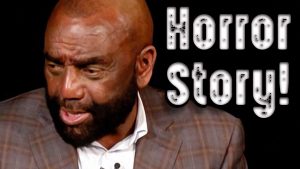 A man is tripping because he said he's had a crazy year. He moved a woman in with him who then would not leave, forged documents, squatted in his home, and had him arrested four times. She's been gone for several months now. He wishes that he'd heard Jesse before this. He was laid off from work because of Covid shutdowns, apparently. He says he's doing the Silent Prayer, but suffering too — he says it's an everyday struggle. Stay with it; the thoughts are lies. God is with you. 
Women are evil — it's not them; they have an evil spirit. They get life from killing you. That's why men die first, because they don't know how to handle that. 
Jesse responds to the man, saying the ex-girlfriend got high off of him. Learn from it. Stay away from her; but don't hate her. Don't fall for it if she tries to come back. 
The married young woman agrees with Jesse about women, and says she has to resist the thoughts in dealing with her husband. Women are closer to hell; Satan is their daddy, and God is the men's dad. But you can still return to the Father. If you're married you have to do it through the man. 
Jesse's new Biblical Question: Why shouldn't men allow women to take over? Women think that they're God. They even call the black woman "queen." Jesse urges one lady in Church to be honest with herself. Jesse asks: Is that spirit of anger still in you? She says she still gets angry, not at her husband, but with politics. 
Closing
Jesse exhorts people: The gate is narrow. Endure the pain. Don't get drunk, don't get high. Try to avoid it, but if you do it, don't judge yourself. Don't worry about how long it's going to take. God is working it out. But you've got to stay with the prayer. You've got to endure the pain. You've got to forgive. 
One man answers the Biblical Question: He says women don't have principles. 
Next Sunday if we remember, we'll do the Silent Prayer. 
We have a matching donation of $30,000. 
He gets back one last time to the lady who admits she's a stubborn woman. Her husband is Buddhist, not Christian, and does not like Jesse. But Jesse urges her to bring him. Do the Silent Prayer. 
Thanks, all! 
BOND INFO
Church with Jesse Lee Peterson is live every Sunday 11 AM U.S. Pacific Time at BOND in Los Angeles. Watch/listen online or join us in-person. Doors open at 10:30 AM. Church streams 11 AM through 12:30, Pacific Time. rebuildingtheman.com/church 
Contact BOND to schedule counseling, set up monthly donation, order books, or join our mailing list: Call 800-411-BOND (1-800-411-2663) or office 323-782-1980, hours Mon-Fri 9-4 PT (Los Angeles). rebuildingtheman.com/contact 

CHURCH LINKS
AUDIO PODCAST: Apple | Spotify | Castbox | Podcast Addict | TuneIn | Stitcher | Deezer | Amazon | Google | RSS feed 
VIDEO ARCHIVE: OLDER Services (2008-2010+) | RECENT Services (2016-present) 
WATCH LIVE on YouTube | Facebook | Periscope | DLive | Twitch 
LISTEN LIVE on Jesse Lee Peterson's radio player during Sunday Service
SILENT PRAYER: SilentPrayer.video | Audio on SoundCloud