18 Apr

04/18/21 What Is the Greatest Evil? (Church)

TODAY'S SERVICE: YouTube | Facebook | Periscope/Twitter | Audio podcast at links below

Church with Jesse Lee Peterson, Sunday, April 18, 2021: We welcome first-timers. Someone on CNN said police reform won't happen until white people's kids start getting killed. Which is worse: the person who gossips or the person who listens to gossip? Biblical Question: What is the greatest evil? Forgetfulness. Remember to do the Silent Prayer. Don't judge yourself or others.
TIME STAMPS
0:00 Pre-church talk

2:12 Welcome to Church

7:23 Happy b-day, Esteban

11:59 Police reform, whites

19:05 Black guy, forgiveness

21:14 Gossiper or listener?

45:04 Biblical Question…

45:59 Ego, alcohol, pot, prayer

52:21 Women drinking, smoking

54:56 What is the greatest evil?

1:04:51 Judgment, laziness – CLIP: 'Illegal' Asks How to Stop Being Lazy? (7 mins)  

1:13:13 More responses

1:23:26 Jesse's answer – CLIP: The Greatest Evil Is Forgetfulness (10 mins) 

1:28:28 Love or hate Satan?

1:31:51 It's not that important

1:34:13 We can't change

1:35:44 Getting high no good

1:42:53 Come out of the world

1:45:35 FALSE END

1:45:48 MEN'S CONFERENCE

1:47:08 Support BOND
Church Notes
(We start streaming right around 11:00 AM US PDT.) 
Jesse opens by welcoming first-time visitors. Belated happy birthday to Esteban, now 25! He used to co-host The Hake Report with Joel Friday. 
Whites, Blacks, and 'Police Reform'
11:13 Jesse talks about police stopping blacks and people pretending that it's racism. Someone on CNN said that police reform won't happen until white people's kids start getting killed. Jesse invites people to respond to this statement. Little kids are being taught that whites are racist. Some say that white people are complacent and don't like confrontation — while Jesse says blacks live for confrontation. Start dealing with evil. Don't go looking for it, but don't avoid it. 
11:21 A young black man joining us for the first time says it's sad what they're putting kids through. Jesse asks him about forgiving his mother. He FaceTimed his father as well. 
Spreading and Listening to Gossip
11:22 Jesse asks a number of ladies: Which is worse, a person who gossips, or the person who listens to the gossip? Can you avoid gossiping or listening to it? 
11:33 Some males gossip too! Jesse explains that gossip is when you have an issue with someone and you don't go to them. 
After talking about the relationship between father and children, and the need to forgive, Jesse talks more about gossip. 
11:38 Another young lady Marlene speaks on the gossip question. She talks about venting to her parents. Jesse points out that Christians are supposed to go to one another. 
Biblical Question: The Greatest Evil
11:46 Jesse asks his Biblical Question: What is the greatest evil? 
Dealing with ego
A young lady who went to the meeting noticed her own ego after attending BOND monthly Women's Forum this past Thursday. We had an amazing meeting — third Thursday of the month. As a little girl, she'd make a scene at a party to ruin things for her sisters. Her father didn't realize his absence left her open to evil. She also mentions she gets drunk once a month, and she doesn't like being hurtful and disrespectful. She stopped doing the Silent Prayer at one point recently. She started smoking weed again. She said she likes getting high. 
11:52 When she does the Silent Prayer, she does not get high. She realized the "wall" she put up. She really appreciated Jesse's advice and help on Thursday, although it was tough. Jesse's not used to women getting drunk and high. 
More Feedback: What Is the Greatest Evil? 
11:56 More people give feedback on the Biblical Question. One man says tolerance is the worst. Victoria says it's knowing right, but not doing it. Another man said it's the Devil tricking people into thinking he doesn't exist. Bigg Bump aka Derrick says playing God is the greatest evil. His daughter agrees it's ego, or thoughts. One man says it's not being in the present. 
Samuel tells about David and Goliath, and disrespecting God. One man says Joe Biden. Another, deception.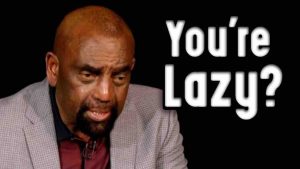 Yet another, Said (sp), says judgment is worst — he used to judge himself, thinking himself inferior to others. He held up his crutches; as a kid, he didn't think that way, but as a young adult he did. He asks how to overcome being lazy. He's Mexican, he says. Funny moment. Jesse tells a story about Samuel the Mexican Carwash Boy. Jesse urges him to notice it, not judge himself; don't try to force yourself; see it, but don't resent it. Your natural energy will overcome it. He's not doing the Silent Prayer as much as he should. 
His friend Josh talks as well; they're both first-time visitors. They listen to Jesse's show. 
Yet more responses to the BQ
12:14 A man says rejecting God is the greatest evil. Then you can justify anything, and don't see it as evil. 
Another young lady answers the question. Jesse said she had a major impact on him at the Women's Forum, knowing what she'd been through and how she deals with it. 
Several other people respond to the Biblical Question.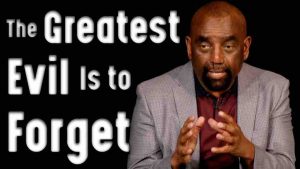 12:24 Jesse says the greatest evil is forgetfulness. When you forget, you lose sight of the Father. You go back into the darkness of your imagination. That's why you should pray without ceasing, so that you don't forget. In the presence of God, he's changing your life from the fallen state to His nature. Don't forget to pray. Stay with the Silent Prayer. 
You love God with all your heart, soul, and might, along with nothing else, and you love your neighbor as yourself. You develop the values of God. That's one reason it's written in the Bible, because it reminds you of what you already know. Forgetfulness is the greatest of all evil. 
Pray without ceasing. Don't let anyone or anything take you away from it. We all already know the truth, as little kids. Because we're traumatized, we forget it. 
Because Jesse stays with it, a lot of stuff comes naturally. Your mindset changes. You don't forget the Father. Be serious about it, in that you know that's the first thing. 
Your issues are no big deal. God creates love through human beings; that's why we even love our enemies. 
12:29 One of the young men asks: Are we supposed to love Satan? You deal with evil, but just don't hate it. Then you'll have courage. If you look at the world, they're freaking out — including the Christians who have not entered the Kingdom of Heaven within. 
Unless you enter the Kingdom of Heaven within, you won't be able to deal with what's to come and what's happening now. 
Segway about pot
12:35 Jesse talks more with the people about pot. 
12:42 They want to legalize these things to control you. Come out of the world, be in it but not of it. 
Do the Silent Prayer. Seek the Kingdom of God and His right way, and all will be added. Relax, it's not a big deal. 
12:45 Don't waste your money in the courts fighting for your children. Stay away from the pot; stop letting Satan make excuses for it. You want to be aware, to remember and not forget. 
Closing
12:46 Thanks for joining. We need to bring Christianity back, and love back. 
BOND INFO
Church with Jesse Lee Peterson is live every Sunday 11 AM U.S. Pacific Time at BOND in Los Angeles. Watch/listen online or join us in-person. Doors open at 10:30 AM. Church streams 11 AM through 12:30, Pacific Time. https://rebuildingtheman.com/church
Throwback Sunday Services premiere on BOND YouTube channel Wednesdays at 4 PM US Pacific Time (7 PM ET).
Contact BOND to schedule counseling, set up monthly donation, order books, or join our mailing list: Call 800-411-BOND (1-800-411-2663) or office 323-782-1980, hours Mon-Fri 9-4 PT (Los Angeles). https://rebuildingtheman.com/contact
CHURCH LINKS
AUDIO PODCAST: Apple | Spotify | Castbox | Podcast Addict | TuneIn | Stitcher | Deezer | Amazon | Google | RSS feed
VIDEO ARCHIVE: OLDER Services (2008-2010+) | RECENT Services (2016-present)
WATCH LIVE on YouTube | Facebook | Periscope | DLive | Trovo | Twitch
LISTEN LIVE on Jesse Lee Peterson's radio player during Church on Sunday
SILENT PRAYER: SilentPrayer.video | Audio on SoundCloud