14 Jul

Frustrated Actor Abandons His Calling? (Church, Jul 14, 2019)

Today we streamed live on YouTube, Facebook (we're able once again to stream on the BOND page, but not Jesse's radio page!), Periscope, DLive, and Mixer (DLive and Mixer do not preserve past video streams for very long). Look out for audio podcast on Apple/iTunes, TuneIn, Spreaker, Stitcher, and SoundCloud afterward.

At Church today, we touch on fallen state "love" for dogs and in relationships, the Disneyland brawl, and the Biblical Question: Do you know what hell looks like? (Jesse answers it toward the end.) We also talk at-length with a young man who felt it was from God that he should be an actor. Yet he does not want to go to auditions anymore. He wrote his own script. A lot of people have feedback for him. Jesse tells his story of starting his business, and of starting BOND. A few talk about forgiving their mothers. 

(James's mother made him memorize the Biblical book of James — but that intellect sets you up to rely on your intellect.) 

We touched on White History Month and fear. 

A man told a story about being off because he had not been doing the Silent Prayer. 
What Does Your "Love" Feel Like? 
Jesse asked homosexuals and people who own dogs what their love felt like. It's the same as the false "love" that men and women and women feel for each other. One man, age 26, is not sure he's ever been in love. In a fallen state we act like animals. Vegans and people who are into animal rights are being used for money, just as those on pot are! Jesse tells the story of killing chickens and hogs when he grew up on the plantation in Alabama. (Later Daniel made the point that many vegans and PETA supporters support abortion!) 
Disneyland Fight
We talk about a viral video of a fight amongst a group of black men and women at Disneyland. One woman said she got emotional at the sight of a man hitting women. She was hit before, and has in the past thought about reporting past mistreatment. But she realized that it's crazy to think about stuff from 20-plus years ago, that may not have been ill-intended the way she took it! Others talk about that it's wise nowadays not to try to breakup these crazy fights. 
What Does Hell Look Like? 
Some talk about last week's Biblical Question: What does hell look like? (At the end of Church, someone reminds Jesse, and he gives his description: The same hell that we feel on earth, but worse and unending.)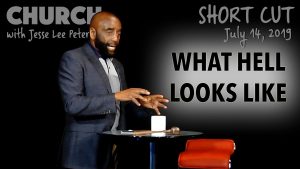 Watch 3-minute Short Cut: What Hell Looks Like…
An Actor Gives Up His Dream…?
Jesse and others in church talk at-length with Will who since the age of 4 felt inspired to be an actor. He's practiced since age 12, and moved out here to Los Angeles from the Dallas area in Texas to be an actor. Although he works a regular job, he was doing auditions, but now he doesn't feel like going to them! So he wrote a script over the course of a couple months, including a role for himself. Jesse is not surprised that he's "given up," and knows why. Lots of people give feedback, but he defends his decision. 
Jesse and another lady talk about starting their own businesses, and Jesse also talks about how BOND came about. God does not tell you to do something. You should not put being an actor first, but your primary thing should be seeking God's kingdom, and His right way. When God has you do something, no obstacle stops you. You should not try to will something to be. 
Jesse mentions how James said that his mother had him memorize the book of James from the Bible. For what? That kind of learning sets you up to rely on your intellect, and it's hard to break free to just live. 
Announcement
Remember: We have our monthly Women's Forum, for ladies only, this Thursday, July 18, 2019, 7:00 PM PT at BOND in Los Angeles. Women's Forums are third Thursday of the month. rebuildingtheman.com/events 
(Men's Forums are first Thursday of the month.) 
—
SILENT PRAYER: silentprayer.video | AUDIO soundcloud.com/rebuildingtheman/silent-prayer 
CHURCH Sunday 11am PT (1pm CT / 2pm ET) rebuildingtheman.com/church 
COUNSELING at BOND rebuildingtheman.com/counseling or call 323-782-1980   
BOOKS bondinfostore.org 
DONATE rebuildingtheman.com/donate