07 Feb

02/07/21 What Is the Purpose of Love? (Church)

TODAY'S SERVICE: YouTube | Facebook | Periscope/Twitter | Audio podcast at links below

Church with Jesse Lee Peterson, Sunday, February 7, 2021: We pay respects to our friend Cheryl who expired unexpectedly just the other day. Our issues are spiritual; reject the world's language and deception. A young lady asks how she should relate to Christ: Should we worship Jesus? Biblical Question: What is the purpose of love? Stay with the Silent Prayer, and endure the ego pain.
TIME STAMPS
Church Notes
(We start streaming about 11:00 AM US PST)
Our friend Cheryl died!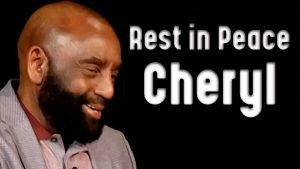 A good friend of BOND named Cheryl expired just the other day! She was always a helpful volunteer. We will miss her. Her brother said that she was trying to go "natural" to deal with her diabetes. (None of us knew she had that!) According to her brother, she had a heart attack after she was found unresponsive in her home. For those who may be tempted to speculate, she did not die of the Chinese virus. 
Some of the ladies and men at Church who loved her speak about the shock, and reminisce about her kindness and genuineness. She will be missed. May her soul rest in peace. 
Our issues are spiritual
Don't listen to the ways of the world. If you have a "mental health" issue, it's spiritual at root. We are in a war against evil. But Christians sound just like the world. Call it what it is. The world softens words down. Anger and resentment are hatred. Hatred is evil, inside all people (until they overcome it). 
In Congress the other day, people emotionalized their supposed experience at the Capitol riot January 6 — to make you feel sorry for them. 
Men have grown weak too — sharing problems with women. (We had a Men's Forum this past Thursday.) 
Should we worship Jesus?
A young lady Black Victoria asks how she should relate to Jesus; she's not completely clear who Jesus is in her life. She does not believe that Jesus is God, but that he had the spirit of truth, of God, in him — as other men in her life do. She wonders whether she should worship Jesus. 
Several guys respond with their thoughts before Jesse talks. Seek, and you shall find. 
Biblical Question: What Is the Purpose of Love?
11:45 Jesse asks: How many people here have love? People who do not have love catch hell on earth. You must forgive to overcome that. Jesse's Biblical Question: What is the purpose of love? (We talked a little about it this past Thursday night's Men's Forum, so Jesse mostly asks the ladies.) 
(In another side comment, Luisa talks about Cheryl's passing — after Jesse notices that the BOND ladies wore black today.) 
Jesse sings: "I wanna know what love is…" Several people give their take. 
Crime out-of-control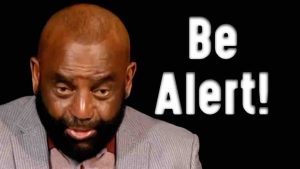 12:01 (SIDE NOTE: A couple of the guys in Church are from Baltimore, one visiting and one just moved out here. Crime in L.A. is out-of-control. And now the people in charge are letting them run wild, day and night. Anger is serious. Jovani ran for City Council President in Baltimore.) 
The purpose of love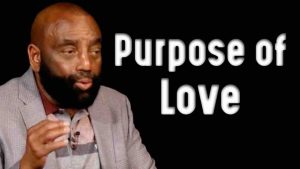 12:05 Jesse answers what love is: It is energy, life itself — it prevents you from hating your enemy: the nature of God. The Bible says: God is love. It is more than just forgiving your mama or enemy. Don't worry about the minor things. Love will cause you to overcome the world — His life force will do it. Of yourself you can do nothing. 
12:13 Don't hate or judge yourself for your fallen state stuff. Stop fighting with that stuff. God cares about the heart. You'll notice people don't judge the heart, but what you do. 
12:15 A man asks: Where does enduring fit? God will destroy the ego when you care what people think. Feel the embarrassment and pain inwardly, and go on with your day. He will fight the battle for us. It's a warfare between good and evil. 
Dealing with ego, relationships, and breakups
12:27 Jesse responds to a man who dealt with ego pain after a breakup. Endure it. 
12:34 Nobody loves anybody. Bring love back. 
12:41 A young man asks about parents spanking their children. 
12:45 A man realizes that he does not really love his wife, because it's just an ego good feeling he gets from doing "loving" things in life. 
Closing
Do the Silent Prayer. Stay with it. He's renewing your mind, body, and soul. Satan deceives you to get you to stop. If someone gets mad at you, wish them well. Endure the pain if they're too important to you. 
BOND INFO
Church with Jesse Lee Peterson is live every Sunday 11 AM U.S. Pacific Time at BOND in Los Angeles. Watch/listen online or join us in-person. Doors open at 10:30 AM. Church streams 11 AM through 12:30, Pacific Time. https://rebuildingtheman.com/church 
Throwback Sunday Services premiere on BOND YouTube channel Wednesdays at 4 PM US Pacific Time (7 PM ET). 
Contact BOND to schedule counseling, set up monthly donation, order books, or join our mailing list: Call 800-411-BOND (1-800-411-2663) or office 323-782-1980, hours Mon-Fri 9-4 PT (Los Angeles). https://rebuildingtheman.com/contact 
CHURCH LINKS
AUDIO PODCAST: Apple | Spotify | Castbox | Podcast Addict | TuneIn | Stitcher | Deezer | Amazon | Google | RSS feed 
VIDEO ARCHIVE: OLDER Services (2008-2010+) | RECENT Services (2016-present) 
WATCH LIVE on YouTube | Facebook | Periscope | DLive | Trovo | Twitch 
LISTEN LIVE on Jesse Lee Peterson's radio player during Sunday Service
SILENT PRAYER: SilentPrayer.video | Audio on SoundCloud