14 Feb

02/14/21 How Do We Hold People Responsible…? (Church)

TODAY'S SERVICE: YouTube | Facebook | Periscope/Twitter | Audio podcast at links below

Church with Jesse Lee Peterson, Sunday, February 14, 2021: We take some opening questions. A husband and wife talk about being over-involved with their adult son's relationships. A mother visited her grown daughter uninvited this weekend! Some men and their wives talk about the women "tripping" as the men become more "alpha" (spiritually strong). 

Biblical Question: How do we hold people responsible when there is no free will? A woman feels sad and depressed about the world sometimes. (One man doesn't believe that Mary was a virgin when she had Jesus!) 

This is BOND's 31st anniversary! How do you deal with disrespect? Jesse gives his advice on dealing with the pressure to wear masks amid the Covid scare. New Biblical Question: How do you love God? 
TIME STAMPS
0:00 Small talk: Bum

2:10 Emotions, homosexuals

13:02 Husband and wife re: son

26:50 Know if you're judging

28:01 Mother and grown daughter

41:44 Self love, women tripping

45:57 When husbands turn alpha

1:02:26 South American, alpha women

1:07:05 Biblical Question (asked)

1:09:05 Lady depressed at times

1:18:49 Samuel, Bib Q answered! – CLIP: Holding People Responsible…? (14:32) 

1:22:13 Child offenders? Virgin Mary?

1:29:16 Cain and Abel; Know Thyself

1:31:02 More from JESSE

1:32:42 Dealing with disrespect? 

1:35:29 JESSE on disrespect

1:38:30 Natural hair?

1:39:13 Jesse on waking up

1:39:56 Super Chats

1:40:41 BOND 31st Anniversary

1:44:10 Mask question

1:47:31 New Bib Q: How love God?

1:53:38 Women's Forum Thu 2/18/21
Opening questions
(We start streaming a few minutes before 11:00 AM US PST. Jesse talks about a "bum" who makes major money and bought his son a car, and one for himself.) 
Our late friend Cheryl's funeral is supposed to happen in March. We open up service taking questions and feedback from the people. One man asks about worship. Another asks about giving. 
A third man talks about being calm when the world pushes emotion, and lies to emotional people. Jesse talks about slavery movies. People aren't comfortable around you if you don't go along with them. 
A fourth man, Daniel, asks if a homosexual can faithfully serve God. His brother recommended he visit us. He is vague on whether he has anger; his brother has told him about anger, at least directly — that anyone with anger is a woman. 
A husband and wife about their son
A fifth man has smoked pot for forty years, but credits Jesse for his quitting after all this time. He joined us with his wife. They were at their worst point when he joined us last time. His father and stepfather both died — one 20 years ago. How does he return to his father? Keep your eyes on yourself. He does not do the Silent Prayer every day. 
The man's wife came to marriage counseling a couple years ago, perhaps. Jesse urges them to stay with the Silent Prayer. Did you know we are a mess? She asks about her son, 28, who had a baby out-of-wedlock. The mother cheated on him five years ago, and she says she "forgave" her for that. She and her husband caught her in the act. It happened again; she stole from them. Now they're back together. But this is not her business! 
The man did not tell his wife to stay out of their son's business! 
We don't have a right to judge anyone. Apologize to her for hating her. Stay out of it! Jesse's never seen so many parents involved in their children's relationships. He asks the man if he's able to shut his wife up. Women need alpha males (not beta males), who are strong. 
He forgave his mother. Do the Silent Prayer. And don't meddle with the son, unless he calls them. 
A mother and her grown daughter
(A man asks how to know if you're judging. When you are angry at them. Our lives are a mess!) 
11:25 A lady asks Jesse's advice for young women who didn't have good men in their lives, about loving themselves. The same advice Jesse gives men, he gives women. There's no such thing as self-love. How do you love yourself? Where do you get the love to love yourself with? 
The mother came to visit her daughter — uninvited! She didn't have a valentine, and last week was her birthday. The mother wanted to check on her, an only child. 
This mother has not gone to her own mother to forgive her in-person. Jesse urges her to focus on herself, and not her daughter — it's so amazing. Her father passed, and she never felt she resented him. She agrees with Jesse's message about rebuilding the man. 
Jesse points out that many women want to be in bad relationships, because they get an ego high from it. Some have hard heads and need to suffer in order to wake up. Work on your life, and leave everybody else alone. Jesse asks: Did you know you were too busy with other people's lives? She thinks she's not. 
The daughter asks about Jesse saying that you can't love yourself. We don't have love. You would have no opinion of yourself. People who love themselves are on an ego trip. The lady feels that self-love is keeping yourself healthy. But once you overcome anger, you'll naturally do right. We don't have love to give ourselves or others. Don't hate yourself either. 
The experts are wrong about self-love and relationships. Just relax and live your life. 
About women (wives) tripping
11:39 Another young woman talks about the idea of self-love and confidence. Her holistic psychologist sister tells her to love her anger and her shadow, and embrace it. She says that she still trips sometimes. 
11:45 After Jesse says that men will change, and the women will begin to freak out — a man indicates his wife does this. She disagreed with Jesse about things, and Jesse says she pretends not to understand. But women try to frustrate men in order to control them. (She was for the peace corps, while he was in the Marines.) They've been married 9 years. 
His wife then talks about her understanding of things, and how she's seen him change. She's become a little more open. The husband had to "reword" things to make them easier for her to accept. Men are not equal to God, and women are not equal to men. Men are over women. Jesse then talks with the lady about forgiving her mother, who is a strong Christian woman. 
The man says he was angry at his mother because she died when he was 12. But you don't want mama's love. A mama's love will kill you. 
More feedback and the Biblical Question
12:00 A young woman joined us for the first time with her friend. She has a strong accent, as she's from South America. 
A man who spoke up earlier asks about alpha women. 
Jesse then asks his Biblical Question: How do we hold people responsible for their actions when there is no free will? (We get a couple of answers, and then get side-tracked talking with a young woman about her occasional depression.) 
A woman depressed over the world
12:08 One young lady joins us for the first time with her fiancé. She feels she needs to ask her adoptive parents for forgiveness, because of how she acted as a teenager. Parents do their best. 
She says she has no anger, but sometimes depression. Jesse asks: What causes depression? She says things happening in the world causes her to become depressed. She's an emotional person, and feels things more than others. She cries and feels sorry for the world. It's a messed up; that's why we're bringing love back, Christianity. Does crying help the world? 
Jesse warns her: It's playing God to feel sorry. Let people suffer. It's impossible to be depressed without anger. Depression is a child of anger. We cannot make decisions in life; we just have to observe life. When you see how awful the world is, you make decisions, feel sorry for it, and hurt yourself. 
You don't want passion and emotional stuff — it screws up your life. Jesse urges her to do the Silent Prayer. God sent his Son to save the world, but most will not follow him. It's on them. 
Back to the Biblical Question, and more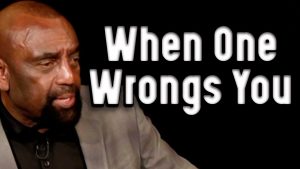 12:16 Samuel the Mexican Carwash Boy answers the Biblical Question. Jesse agrees with him: Don't try to get revenge. Put them in jail if they stole from you. If you have a problem with them, go and forgive them. We cannot punish people — vengeance is God's. 
Anyone who has not returned to the father is full of hate. 
One man asks about child molesters who get away with it. Do not hate them. And do not plan how you should react. We don't plan life; we live it, and it unfolds. If you plan it, you set yourself up. 
Do we have to believe the whole Bible to be born again?
He also asks if we need to believe everything in the Bible. He believes Jesus came through Mary, but that she was not a virgin. God put a piece of his nature inside Mary and created Christ — just as He put part of His nature in you. You took on Satan's nature when your mother traumatized you. But when you wake up, you're born again of God. You'll see for yourself. 
Questions and comments on anger
Samuel talks about the story of Cain and Abel, and how God protected Cain from others after he killed his brother Abel. 
How do deal with disrespect
A young woman asks how to react when someone disrespects you. Esteban and Levi's dad answer. After some other feedback, Jesse says: If someone disrespects you, and you overreact, be glad that you see that you have that ego in you. Be happy if that happens. Have the same feeling about that as when things are going well. Protect yourself if it's physical, but don't get angry. Stay away from anger; you will always see which way to go. 
31 years of BOND! 
Today is the 31st anniversary of BOND — the second Sunday in February, since 1990! Jesse comments on the amazing experience he's had over the years, and thanks everyone. 
What to do about masks?
One man asks what the right thing is with the masks. Jesse says that it's like they'll never let us go. It fulfills their ego. If a business requires it, don't rebel. Some people go into stores just to go off on others. But people are in fear. We have the wrong people running the government. 
New Biblical Question
How many love God? Do you love God? The new Biblical Question is: How do you love God? One man says that the Bible says that we can't serve two masters. How do you make nothing else your god? Think about it this week. Several people give their answers, while some want to "smoke on it" (meaning think about it). Jesus said that if you love me you'll keep my commandments. But there's a "how" to it! You cannot do the right thing on your own. 
Closing and announcements
We have our Women's Forum this Thursday, for ladies only at 7 PM PT. 
Do the Silent Prayer. Get to know yourself. Don't worry about what other people think about it. 
BOND INFO
Church with Jesse Lee Peterson is live every Sunday 11 AM U.S. Pacific Time at BOND in Los Angeles. Watch/listen online or join us in-person. Doors open at 10:30 AM. Church streams 11 AM through 12:30, Pacific Time. https://rebuildingtheman.com/church 
Throwback Sunday Services premiere on BOND YouTube channel Wednesdays at 4 PM US Pacific Time (7 PM ET). 
Contact BOND to schedule counseling, set up monthly donation, order books, or join our mailing list: Call 800-411-BOND (1-800-411-2663) or office 323-782-1980, hours Mon-Fri 9-4 PT (Los Angeles). https://rebuildingtheman.com/contact 
CHURCH LINKS
AUDIO PODCAST: Apple | Spotify | Castbox | Podcast Addict | TuneIn | Stitcher | Deezer | Amazon | Google | RSS feed 
VIDEO ARCHIVE: OLDER Services (2008-2010+) | RECENT Services (2016-present) 
WATCH LIVE on YouTube | Facebook | Periscope | DLive | Trovo | Twitch 
LISTEN LIVE on Jesse Lee Peterson's radio player during Sunday Service
SILENT PRAYER: SilentPrayer.video | Audio on SoundCloud