26 Jan

05/16/10 Dying at the Cross, Part 2 (Sunday Service Archive)

(BOND YouTube Premiere, 4 PM PT, Weds., Jan 27, 2021) 

BOND Sunday Service, May 16, 2010: Jesse Lee Peterson talks more with people at church more about what it means to die at the cross — which we discussed two weeks prior. Men and women talk about getting an idea in their head about what things mean, and their pride and ego getting involved with "changing" themselves. Do you have to "hit rock bottom" before dying at the cross? We also talk about the notion of storing up earthly treasures, rather than treasure in heaven.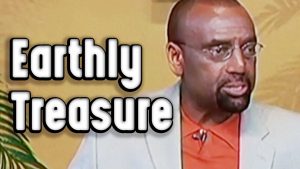 In this 16-minute clip, Jesse references Matthew 6: 19-21, in which Jesus says: Do not store up treasures on earth where moth and woodworms (or rust) destroy them, and thieves break in and steal. But store up for yourselves treasures for yourself in heaven…. For wherever your treasure is, there your heart will be too. It's not just material things, but ego-feeding things like relationships or people. As a younger man,  for example, Jesse used to put his heart, pride, and faith in whatever woman he was dating. 
How do you change? Satan even gets involved in your desire to change. How do you take up your cross and follow Christ? Know yourself to know whether you are born again of God, or of your father the Devil. 
TIME STAMPS
0:00 Sun, May 16, 2010

1:02 Treasures on earth – CLIP: Is Your Heart in the Wrong Place? (16 mins)

4:37 'I wanna change'

11:39 Have an ego?

14:57 Die at the cross?

21:32 Hit rock bottom?

31:31 Deep thoughts?

37:35 Still moment 

39:21 Treasure in the Bible

42:03 See yourself: JLP story

53:22 Don't want it?

55:32 Nothing I can do

56:57 Attached to issues

58:24 Doubt your thoughts

1:00:15 Support BOND
NOTE: Throwback Sunday Services premiere on BOND YouTube channel Wednesdays at 4 PM US Pacific Time (7 PM ET).
BOND INFO
Church with Jesse Lee Peterson is live every Sunday 11 AM U.S. Pacific Time at BOND in Los Angeles. Watch/listen online or join us in-person. Doors open at 10:30 AM. Church streams 11 AM through 12:30, Pacific Time. rebuildingtheman.com/church 
Contact BOND to schedule counseling, set up monthly donation, order books, or join our mailing list: Call 800-411-BOND (1-800-411-2663) or office 323-782-1980, hours Mon-Fri 9-4 PT (Los Angeles). rebuildingtheman.com/contact 
CHURCH LINKS
AUDIO PODCAST: Apple | Spotify | Castbox | Podcast Addict | TuneIn | Stitcher | Deezer | Amazon | Google | RSS feed 
VIDEO ARCHIVE: OLDER Services (2008-2010+) | RECENT Services (2016-present) 
WATCH LIVE on YouTube | Facebook | Periscope | DLive | Trovo | Twitch 
LISTEN LIVE on Jesse Lee Peterson's radio player during Sunday Service
SILENT PRAYER: SilentPrayer.video | Audio on SoundCloud