16 Mar

06/13/10 Dealing with Destructive and Constructive Thoughts

(BOND YouTube Premiere 4 PM PDT, Wednesday, March 17, 2021; audio podcast will be available via links below) 

BOND Sunday Service, June 13, 2010: Jesse Lee Peterson talks with the people about dealing with thoughts. We read Hebrews 4: 12-13 about the word of God being sharper than any two-edged sword, and that nothing is hidden from Him. People emailing our Church as well as talking in the meeting discuss how to live practically in observation versus in thoughts.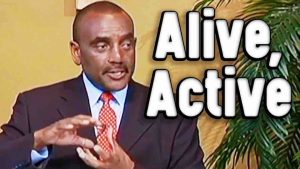 Jesse references Hebrews 4: 12-13, which says the word of God is alive and active. You should speak the truth without any anger or resentment. Some people repeat true things from the Bible or from preachers, but without power behind it — they don't know it or live it for themselves. What went wrong with "religion" that people turn it into a club to join, in which you own it and force rules on others? You should be of the Spirit.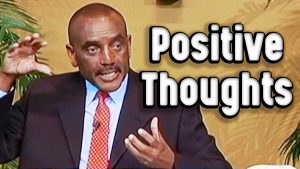 Jesse reads an email asking about observing rather than thinking in life. If we're to be an observer, not judging thoughts, how do we interpret our needs? How do you distinguish between constructive and destructive thoughts?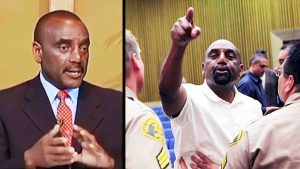 Jesse takes a question from a lady about seeing injustice, destruction and decline in the country. You see it, but do not make a decision about it, don't judge it. You have to be shown right and wrong. Jesse then tells a story of confronting a local black politician Mark Ridley Thomas who threatened Jesse as Jesse yelled at him over a cowardly lie. 
THUMBNAIL PHOTO: Rev. Jesse Lee Peterson, president and founder of The Brotherhood Organization of A New Destiny, middle, protests against Supervisor Mark Ridley-Thomas' vote, as he is asked to leave the hall by Los Angeles Sheriffs, after Los Angeles County Board of Supervisors voted 3-2 to join the city in its economic boycott of Arizona over its SB 1070 law targeting illegal immigrants, on Tuesday, Jun 1, 2010, in Los Angeles. AP PHOTO/DAMIAN DOVARGANES – KPCC article 
TIME STAMPS
0:00 Welcome to Church

0:49 Who know how to read?

2:04 The word is alive, active

5:06 Speak truth, no anger

8:16 Religion groups vs the Spirit

13:17 Photographic memory

15:54 The word must be sharp

16:29 Email question

19:24 Observer or thinker?

30:18 Destructive vs constructive?

33:30 Observe life without words

37:58 Can't put faith in the Bible

39:10 Help a lost person?

40:14 Both are wrong!

48:39 When you see injustice

51:03 Story: confronting politicians

52:20 How to choose a tie?

53:55 Know you're not God

56:17 Silent Prayer

57:05 More of the politician story

1:00:28 End of service
Throwback Sunday Services premiere on BOND YouTube channel Wednesdays at 4 PM US Pacific Time (7 PM ET). 
BOND INFO
Church with Jesse Lee Peterson is live every Sunday 11 AM U.S. Pacific Time at BOND in Los Angeles. Watch/listen online or join us in-person. Doors open at 10:30 AM. Church streams 11 AM through 12:30, Pacific Time. https://rebuildingtheman.com/church 
Contact BOND to schedule counseling, set up monthly donation, order books, or join our mailing list: Call 800-411-BOND (1-800-411-2663) or office 323-782-1980, hours Mon-Fri 9-4 PT (Los Angeles). https://rebuildingtheman.com/contact 
CHURCH LINKS
AUDIO PODCAST: Apple | Spotify | Castbox | Podcast Addict | TuneIn | Stitcher | Deezer | Amazon | Google | RSS feed 
VIDEO ARCHIVE: OLDER Services (2008-2010+) | RECENT Services (2016-present) 
WATCH LIVE on YouTube | Facebook | Periscope | DLive | Trovo | Twitch 
LISTEN LIVE on Jesse Lee Peterson's radio player during Church on Sunday
SILENT PRAYER: SilentPrayer.video | Audio on SoundCloud