07 Nov

11/07/21 Be Willing to Go Through Hell (Church)

Love God more than anything else; be willing to sacrifice whatever you need to for what's right. Women are going after the children. 

TODAY'S SERVICE: YouTube | Facebook | Twitter | Odysee | BitChute | Rumble | Older services at links below

AUDIO PODCAST: Apple | Spotify | Castbox | Podcast Addict | TuneIn | Stitcher | Deezer | Amazon | Google | RSS feed | SoundCloud 

Church with Jesse Lee Peterson, Sunday, November 7, 2021: We take questions from first-timers about race, women, and parenting. (A confused lady gets kicked out.) One father shares an update on his fight against an L.A. school for his 12-year-old son's mind. A boy gets advice on dealing with his mother and stepfather who all joined us. Another father should let go of his child and the cheating mother with whom he lived out-of-wedlock. Be willing to go through hell; endure the ego pain; pray without ceasing. 

We'll deal with the Biblical Question of the past two weeks tomorrow on JLP's radio show: How do you maintain your hope in God? We also introduce the new Biblical Question: Is the woman still your god? 

ANNOUNCEMENTS: We think we've found a front desk person (with accounting experience). Nick still needs an intern, hopefully to become Jesse's new producer. Contact us if interested!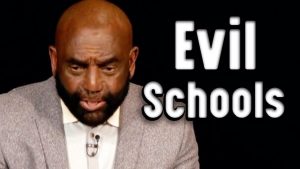 Parents talk about how schools are undermining their rights and authority, and corrupting their children. WATCH: YouTube | COMING: BitChute | Rumble | Odysee
TIME STAMPS
0:00:00 Sun, Nov 7, 2021

0:01:48 Welcome to Church

0:02:17 First-timer(s)

0:06:57 Race vs "racism"

0:11:41 Are women special?

0:18:48 Millennial on his parents

0:24:37 Confused lady

0:34:23 BQ response

0:37:02

Father vs evil school

0:46:31 Other parents, stepson

1:01:13 More on schools

1:06:39

Father, JLP: Let go

1:19:47 JLP: Willing to go thru hell

1:27:45 JLP: Women war against men

1:34:50 Pray

1:35:46 Q: Divorce? Wait and see

1:39:13 All women are evil

1:41:52 New BQ

1:43:46 More: women in power

1:45:43 Children belong to father

1:48:41 Closing / announcements
Church Notes
11:00 AM U.S. Pacific Standard Time – We start streaming just on time as Nick gives initial announcements. We "fell back" one hour early this morning as Daylight Savings Time ended in California today. 
First-timers: Race and women
11:02 Jesse welcomes first-timers, including a man and his wife who's from the Philippines. At first it was hard for her to hear the truth about women that Jesse says. Asked whether she does the Silent Prayer, she says she has to find time for it. Her 12-year-old son also speaks. 
Race vs racism
11:07 A man named Johnny from Kansas City, MO, introduces himself, as well as Isaac from Boston, MA. Isaac asks why Jesse acknowledges race but not "racism." In reality, Jesse says, we are a spirit. You'll treat all people the same, of love, when you're of love. Once you wake up, things that used to be so serious are like a big joke. 
Is a woman special?
11:12 Jesse then talks with guys who joined Isaac for Church who were here Thursday night for our monthly Men's Forum. 
One man, 23, says that a woman is a divine being, special. He thinks women's spiritual daddy is the Universe — "he, she, whatever it is." Women have instincts, a gut feeling, that men are not in touch with, he says. This young man's father died when he was young, which made life tough for him as a kid; his mother did her best. In certain ways, he thinks a woman is equal to a man, by being human; he's not Christian. His mother was raised "JW" — Jehovah's Witness. 
Millennial on mother and father
11:19 Derek (sp) heard Jesse on YouTube. With the Covid and vaccine "s—" (he cusses by accident — he's 38, a millennial), he was scared, but now observes it. When he forgave his mother, she overreacted; he moved out the same day. In his whole life, he's hardly talked with his father, only seeing him a handful of times, at 14 and 21. His father was "real happy" when he forgave him. His mother's Filipino, and father black. 
A lady confused BOND for a bond agency
11:25 A lady came here to BOND, thinking it was a bond agency. Her meth addict friend (or acquaintance) took it, and he's in jail. She didn't want to go to police, because they're a bunch of criminals who don't arrest the real criminals. Explaining why she's been arrested 4 times, she says she was first arrested in Detroit; she's part black, South Asian, Portuguese, French — she's Creole. Elaborating, she says everybody has black in them. 
Mentioning that we've had counseling, she says she's been raped six times in the last 8 months. 
Biblical Question response
11:35 A man takes a stab at the Biblical Question: How do you maintain your faith in God? He points to the physical things he has, for which he's grateful. 
A father protecting his son from a brainwashing class
11:37 Jesse asks for a recap from a man whose son took "Decolonized Drama and Theatre (sp)" which pushed the idea of "white supremacy" and patriarchy. He started showing up at school; LAUSD schools are closed to parents "for our own good." He's divorced from his son's mother. They threatened to call CPS (Child Protective Services) on this father for coming to pick up his son from this prison-like school. The mother sent an email to the principal saying she'll have to agree, claiming he was being threatening; right away the principal finally agreed. 
His son is in 7th grade — about age 12. There's a "white accountability group" to push "antiracism" on parents. This ordeal strained his relationship with his son who does not understand this; now his teachers and others may treat him differently. 
Other parents talk about their 12-year-old
11:47 Jesse asks another man how he feels hearing this. His stepson, also 12, is in a public school. Being in the fallen state, he didn't know beforehand that he should not have become a stepfather to his wife's son. (Children need their real parents; they don't want stepparents interfering between them and their real parents.) In the bay area, the mother has to work, so they don't feel able to homeschool. 
Parents are supposed to watch over their children, so when they go into the world, they won't be taken over by evil. You can't have an excuse not to watch over your children. 
It's difficult already for the boy to listen to the stepfather because he's not his real father. Jesse's soul too did not accept his stepfather, even though he was a nice, decent man. 
11:55 The mother asks how to help kids get along with the stepfather. Jesse asks the young man how he feels about Matt, the stepfather. He's never seen his real father; he kind of wants to see him. His father has his own family, and his wife doesn't want him to see him. He emails him often. Learn to speak up, but don't be angry, Jesse advises him. 
More about the schools
12:01 The first father with the son in the evil school makes a point about the aggressive brainwashing for several hours daily. Then parents only get an hour or so of waking hours with the children each day. 
12:03 Another young woman Marlene talks about schools. A 7th grade lesbian health teacher told kids they can donate sperm. When she warned the kids against following this advice, they called her a "prude," and that this is "real life"! 
Jesse also talks about the demoralization of the children and society. Mothers are working, unwilling to sacrifice (their egos) for the children! It starts in the home. 
A father worried about his child's cheating mother
12:07 A black man joined us after Marcus told him about us. He's trying to save his family from splitting up; he's been out-of-order in the past with his son's mother. Living with his child's mother, he learned she's been visiting a guy in jail, calling him her husband on Facebook! What advice should he follow, after 3-4 years of fighting, to keep things together? He's always wanted peace with everyone, but was out-of-control, breaking relationships, jobs, and everything. His grandfather raised him, but died in February — and he came to his senses, at 34, seemingly too late. 
Jesse advises him…
Let go by realizing you were wrong in the way you did it. Now that you're waking up, you're realizing your house is on fire. You can't blame her for anything, but admit you were wrong, and endure that pain of being wrong. God will change you so you won't make your situation worse. Relax and take the pain of being wrong. God will cause you to overcome that ego. 
Come out of the fallen state you're in; we all do crazy things when turned away from our fathers. We live in our heads, in darkness. All thoughts are all lies. 
If you do lose your son, love God with all your heart, along with nothing else. He will clean up your house, and cause you to have the life He created for you. Do not, do not, do not try to hold onto her. She will destroy you. She'll see it as a weakness, seeing that you made her more important than God Himself. Overcome the woman being your god. You have not overcome your mother. She caused all women to become your god. Go and forgive your mother for turning you away from your father. 
Every human being on earth has to go through that. That's what it means to be born in sin: we're born into crazy mothers. 
The man says this makes a lot of sense, although it's not what he wanted to hear. Women don't have love; they only have hate; they get their life from hurting people. 
But if you don't love your parents, you won't love God. Face your mother, and your father; forgive them. Do the Silent Prayer. God said: Be still and know Him. 
Be willing to go through hell… Let the ego die. 
12:20 Jesse tells everyone, including this man: You have to be willing to go through hell. Be still and go through the jealousy, envy; that is dying and waking up to the Father. That's what Christ did for us. He dealt with it perfectly by not resenting it. You have to let the ego die. 
There should be major rallies in L.A. over evil people blatantly trying to steal the children. They're not even hiding it anymore! 
Stay with the Silent Prayer. People suffer when they do not stay with it. 
12:22 The man says he's willing to walk the path he needs to walk. Have a wait-and-see attitude. The real power is in the man; you are sons of God. 
Stop being so weak, Jesse tells everyone; it's just a little inside pain! Be glad to see if people betray you. That was a fake friend or family member. Mama will build an army against you, because they don't have love; women don't forgive. Women are looking for a father's love; they're not looking for sex. 
Women are sex dealers; men are sex addicts. When you grow independent from the woman's control again, she'll accuse you of not loving her. It's a spiritual battle, this war between men and women; women hate the image of God in the man. 
A real war coming: Women against men
12:28 There's a real war coming. They're putting women in positions of power. Conservative women are not on your side. Even Bible-thumper women in the media. Women are becoming truck drivers and doctors. 
In Sweden, 99-percent of the women are sluts, and 99-percent of the men are weak; when the Allahu Akbar men come, the women want them. 
Kids can't handle the evil attack
In closing
12:35 Jesse highly recommends you do the Silent Prayer, go and forgive. This war "ain't no joke." Women are not equal to men. Ladies, you need to return to the father too. 
Question about divorce: wait and see
12:36 A man asks about a Bible passage about divorce, adultery, and marriage. Jesse advises people to have a wait-and-see attitude about all things. Don't think ahead. Stay present. God wants us to live now in His Present (or Presence). 
All women are evil…
12:39 Jesse invites any last questions or doubts. Jesse clarifies that all women are evil, until they forgive their mothers and return to the father. He tells the young man, the 12-year-old, how to deal with his mother who at times gets out-of-control angry. Again, all women are like that until they return to the father. 
New Biblical Question / wrapping up
12:42 Jesse then asks his new biblical question: Is the woman still your god? We'll deal with the old Biblical Question from the past couple of weeks tomorrow on the radio show. 
All those who have not returned to the father, who have anger, are dying. Those who've returned are living. You can live a perfect life on earth when you return to the light. 
More on women who are against men
12:44 Ermias chimes in about the women in power in L.A. who are passing all kinds of China Virus / vaccine mandates. Trump's female Supreme Court selection won't support pro-life causes! 
Quick point: The children belong to the father
12:46 Isaac asks why Jesse says the woman raises the man's child. One man explains: Children (and the wife) historically have been considered the property of the father: Patriarchy. Children used to go with the father when there was a divorce. Women used to have lots of kids easily because they were not stressed out and angry as they are today. When you're angry, everything is difficult. 
Closing / announcements
12:49 Jesse makes last announcements and thanks everyone. 
BOND INFO
Church with Jesse Lee Peterson is live every Sunday 11 AM U.S. Pacific Time at BOND in Los Angeles. Watch/listen online or join us in-person. Doors open at 10:30 AM. Church streams 11 AM through 12:30, Pacific Time. https://rebuildingtheman.com/church 
Throwback Sunday Services premiere on BOND YouTube channel Wednesdays at 4 PM US Pacific Time (7 PM ET). 
Contact BOND to schedule counseling, set up monthly donation, order books, or join our mailing list: Call 800-411-BOND (1-800-411-2663) or office 323-782-1980, hours Mon-Fri 9-4 PT (Los Angeles). https://rebuildingtheman.com/contact 
CHURCH LINKS
AUDIO PODCAST: Apple | Spotify | Castbox | Podcast Addict | TuneIn | Stitcher | Deezer | Amazon | Google | RSS feed | SoundCloud 
VIDEO ARCHIVE: OLDER Services (2008-2010+) | RECENT Services (2016-present) 
WATCH LIVE on YouTube | Facebook | Twitter | DLive | Trovo | Twitch | Odysee 
LISTEN LIVE on Jesse Lee Peterson's radio player during Church on Sunday
SILENT PRAYER: SilentPrayer.video | Audio on SoundCloud 
—