13 Dec

12/13/20 Are Mothers 'Horny' for Their Sons? (Church)

TODAY'S SERVICE: YouTube | Facebook | Periscope/Twitter | Audio podcast at links below

Church with Jesse Lee Peterson, Sunday, December 13, 2020 – After taking a few questions, we do the Silent Prayer to show people how to watch their thoughts. Then we discuss the question: Are mothers horny for their sons? We don't wish to get too vulgar in Church. But so often, mothers hate the fathers, and follow their sons around, destroying their sons' relationships with girlfriends and wives. In the fallen state, people are sexual, when they feel good or bad. Women often accuse men of what's in their own hearts. Do not look for love, and do not hate. 

We touch very briefly on this past week's Biblical Question: Why shouldn't men allow women to take over? And the new Biblical Question: Do you think you believe what you want to believe? 

ANNOUNCEMENTS: No Women's Forum this week; Jesse will be out-of-town Thursday night. We have a matching donation fund, through which you can support BOND: rebuildingtheman.com/donate 
TIME STAMPS
0:00 Church start

1:17 Opening questions

13:05 Silent Prayer

27:27 Horny mothers?

39:14 Buddha no courage

40:58 More on horny mothers

53:18 More men and women speak

1:08:25 Man from Monterey, etc. – CLIP: Bad Breakups, Moral Objection to Vaccines, Losing Friends (13:45) 

1:23:33 A mother's love

1:30:20 Biblical Questions

1:33:34 Closing, announcements

1:37:18 Support BOND
Church Notes
Some guys who have to fly back to Hawaii in 25 minutes talk about Jesse's courage in telling the truth despite blowback. 
Jesse jokingly calls Raymond a black Hitler. Always take your business and everything one step at a time. 
The young black man whose brother died, and he spoke at the funeral — he says it went well. His auntie on his father's side has also been listening to Jesse. 
Jesse answers a few questions about intellect and learning, and parents and children. Kids who act out are irritated, usually by the mother. 
Silent Prayer
A guy on YouTube Tyler reminds Jesse to do the Silent Prayer in the service today. You want to let go of everything. Nothing is so important that you should hold onto it. When you're alone, with nothing to do, and you feel like nothing. 
Close your eyes, relax, put your palms up — heaven is within you, but also above. 
Let go, traveling down your body, from the top of your head, your eyes relax in the sockets. Let your tongue relax in your mouth. All the way down your arms to the tips of your fingers, and down to the tip of your toes. Some fall asleep at this point, but that will eventually pass as you continue doing this over days. 
Right above your eyebrows, look toward the center of your forehead, within your minds eyes. That's where thoughts go — the not-you coming and going, reminding you about last year, thinking about tomorrow. Be aware of the first thought. Don't hold onto any of them. 
Be quiet, and hear the quietness, and what's going on around you. Then slowly open your eyes. 
What was your first thought? The thought won't come sometimes when you're watching for it. Some different people respond. That's all to it. But you have to commit to it. 
Mothers horny for their sons?
Jesse asks about the idea he put out on radio this week, that mothers are horny for their sons. Is Jesse off about that? He's heard so often of mothers not liking their sons' wives or girlfriends. In the fallen state, you're horny. If you're angry, you're ready to have sex. If you're happy, you're ready to have sex. Since the mother hates the father, the son looks like the father, but young and in good shape. She'll move and follow you around the earth, like she's in jealous competition. 
One young man is in jail, and has three girlfriends — but his mother does not like any of them. Women are always accusing men of what they're doing; it's not the men so much who are into their daughters; it's women who are into their sons. There are mothers who kiss their adult sons on the mouth! Jesse could be wrong, but he thinks he's right. He understands good and evil now. Isn't that food for thought? 
Jesse tells the story of a man who snuck out the back of his house, and the mother said, "No, come back to mommy!" But this did not happen back when Jesse was a kid. His grandmother prepared him to leave at 18. And she did not want to move back into her childrens' home when she was old. 
A young lady tells about a previous boyfriend whose family practiced mouth-kissing. It's evil. The typical Armenian mother has it bad; she won't let you move! A Mexican guy at a barber shop said that their mothers are the worst. They all live together — you can't find a place to park in South Central L.A. God said to leave! Don't let your mama follow you! She'll kill you! 
Ermias concurs. 
SIDE NOTE: Buddha people don't have courage
Neither do most of the Christians! (Eric thinks a Buddha is a person with no anger.) 
Back to the mothers: More feedback
It's out-of-control. Grow up, and overcome mama. Don't let her move in, or come over for Thanksgiving. (One lady protests this.) Some of Jesse's family members either never left Gary, Indiana, or moved back to Gary; but there's nothing in Gary, but mama. 
One thing you can do as a son is ask the meddling mother if she's horny for you. 
A man recounts forgiving his mother. He talks about a past relationship and marriage, and says that Jesse's right about mothers. 
A young lady respects her mother-in-law. But women think they create life and are God. 
The single father who joined us recently with his daughter — he says his mother ran off every woman he's been with, even from the most innocent childhood friendship. 
Derrick says: Husbands, correct your wives in front of your children. 
Some people think it's more about control, and keeping men like babies. But it's also sexual. Jesse urges mothers to turn their children over to the fathers around age 3. Women don't let go because their ego is too big. 
A first-timer has not been to church in 15 years. 
Man drove a long way to get here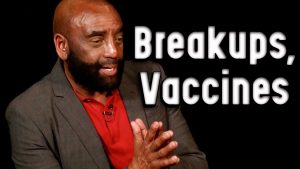 After some others talk, a man named Cam (Cameron) from Monterey, CA (about a 5-hour drive, near Salinas, south of San Jose), joined us. He got up at 4:30 in the morning to come here. After his breakup, he's seen some things about himself, thanks to Jesse. 
As a part of the Air Force, he asks what he should do, given his moral qualms about taking a vaccine. 
He also has an alcoholic friend. Let him go, so that he does not destroy you. 
Love from human beings is not real
Another man Justin spent several months getting a woman in great shape, but she's a sex addict and alcoholic. She would have destroyed him. He helped her because of his ego need for her. It was selfishness, so you got what you deserved. 
Many men are being accused of being horny for little girls, but it's because women are horny for their sons. They're projecting. 
Jesse tells the story to illustrate that a mother's love will kill. To want love comes from hatred, anger in your heart. If you don't have anger, hatred, you won't want love from anyone else. If you didn't get your mother's love, you're blessed. Don't look for love, and don't hate. They're both the same — they're not real. 
Why shouldn't men allow women to take over?
Jesse asks some people his Biblical Question from this past week: Why shouldn't men allow women to take over? 
He also asks his new Biblical Question: Do you think you believe what you want to believe? 
No Women's Forum this week! Jesse is supposed to be out-of-town this third Thursday of this month. He'll be back for Church as normal. 
We have a year-end donation, a matching grant through January 30th, up to $30,000. You can donate through rebuildingtheman.com/donate 
BOND INFO
SUPPORT: MATCHING DONATION (GoFundMe) | or Donate to BOND 
Church with Jesse Lee Peterson is live every Sunday 11 AM U.S. Pacific Time at BOND in Los Angeles. Watch/listen online or join us in-person. Doors open at 10:30 AM. Church streams 11 AM through 12:30, Pacific Time. rebuildingtheman.com/church 
Contact BOND to schedule counseling, set up monthly donation, order books, or join our mailing list: Call 800-411-BOND (1-800-411-2663) or office 323-782-1980, hours Mon-Fri 9-4 PT (Los Angeles). rebuildingtheman.com/contact 
CHURCH LINKS
AUDIO PODCAST: Apple | Spotify | Castbox | Podcast Addict | TuneIn | Stitcher | Deezer | Amazon | Google | RSS feed 
VIDEO ARCHIVE: OLDER Services (2008-2010+) | RECENT Services (2016-present) 
WATCH LIVE on YouTube | Facebook | Periscope | DLive | Twitch 
LISTEN LIVE on Jesse Lee Peterson's radio player during Sunday Service
SILENT PRAYER: SilentPrayer.video | Audio on SoundCloud