20 Nov

Everyone on Earth Is Jeffrey Dahmer

Do you see you're evil? Every human is Jeffrey Dahmer. Keep mind with body, not in thoughts. BQ: Are you responsible for your own life? 

VIDEO  YouTube  |  Rumble / BOND  |  FB  |  Twitter  |  Odysee  |  BitChute  ||  See links below

AUDIO  Apple  |  Spotify  |  Google  |  Amazon  |  Castbox  |  Pocket Casts  |  SoundCloud

Church with Jesse Lee Peterson, Sunday, November 20, 2022: A father continues to be distracted by son's "silent treatment."  //  Question: Do you see that you are evil? A mother admits she's imposing. A man deals with fear at work.  //  Every human being who believes thoughts is a "Jeffrey Dahmer." (One woman protests this.) Jesse saw a documentary showing the serial killer talking.  //  Keep the mind with the body. Do not respond to thoughts or attacks from others or from inside you.  //  It's hard for people to admit they're evil — not them, but the Devil possessing them. Go through the pain.  //

Passion is a false feeling. Feelings, both good and bad, are imposters. That's not you.  //  Have you been keeping your mind with your body? The Devil does not want you to be still.  //

Biblical Question: Are you responsible for your own life? The Devil talks to you about "the truth." Don't have a conversation with him in your mind.  //  The light of God destroys the darkness. Salvation is of the heart.  //  Why do you believe you're responsible for your life? There is no you. The Devil is divided. Your mind is clouded by darkness.  //

Next Assignment: Self-comments… When you get a thought, ask who gave you that though. When that thought is followed by a feeling, say it's not you feeling that. Practice this to become more aware, and not lost in thought and feeling.  //

ANNOUNCEMENT: Our office is closed Thursday and Friday for Thanksgiving. We'll do the radio show Thursday morning, but not Friday.  //  Do the Silent Prayer.  //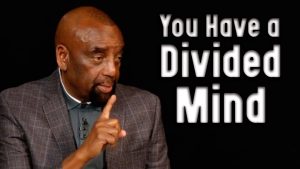 WATCH CLIP  YouTube  |  BitChute  |  Odysee  |  JLP's two cents on his #BiblicalQuestion – Are you responsible for your own life? And this week's assignment: Self comments when encountered by a thought, followed by a feeling… 
TIME STAMPS
0:00:00 Sun, Nov 20, 2022
0:01:14 Father betrayed son, calls him immature
0:15:01 Do you see that you're evil?
0:20:52 Mother: I'm imposing. Fear at work…
0:27:18 Everyone is Jeffrey Dahmer
0:39:26 Name of documentary?
0:41:18 Keep the mind with the body
0:43:50 Dahmer, JLP's advice for alienated son
0:46:35 Dealing with thoughts, attacks
0:52:28 'That's your opinion' debate
0:55:11 Hard to admit you're evil. Not you but the Devil.
1:00:28 Feel the pain
1:02:20 Passion is a false feeling
1:05:40 We're like puppets
1:06:53 Have you kept mind with body?
1:10:05 'Like' is a made-up word
1:11:24 Devil doesn't want you to be still
1:13:35 Dreams question
1:18:00 BQ: Are you responsible for your own life?
1:19:24 Devil talks about the truth
1:20:08 Child: I have chores
1:22:44 The light destroys the darkness
1:24:15 Salvation is of the heart
1:24:39 Why do you believe you are/aren't responsible?
1:28:08 There is no you. The Devil is divided
1:30:40 Mind in the clouds or above them
1:31:25 Next assignment: Self-comments
1:33:25 Pray. Office closed Thu-Fri (Thanksgiving)
Church Notes
11:01 AM US PST We start streaming a minute after the top of the hour.
Father betrayed son, calls him immature
11:02 A father who spoke last week continues to complain about the "silent treatment" from his 20-year-old son. The father betrayed his son's confidence by telling women in the family that the young man was suicidal. Jesse asks him, If you can't see you're wrong, how will you ever help him?
You're not looking at you; you're looking at him. The Devil's controlling you. The man keeps making up excuses from Satan. Don't let the Devil give you other answers once you see you're wrong. Don't let the Devil take you away from seeing you.
You're the enemy. You made up a lie, "I'm trying to help him."
Q: Do you see that you're evil?
11:16 Jesse asks: How many people still get angry at times? Do you see that you're evil?
11:19 Jesse asks Doug: What would happen if you saw that you were evil? He thinks it'd free him up.
Mother: I'm imposing
11:22 A mother admits she's imposing, such as on her daughter who wanted to wear sandals with chippy painted toenails. At 11 years-old, just be an example. Some things you don't allow your children to do. With other things, let her do what she wants.
11:25 Another mother relates to the first when asked: What do you see that's evil about yourself?
11:26 A man fears failure, not measuring up at his job.
Every human being on earth is Jeffrey Dahmer
11:28 Jesse was watching a Jeffrey Dahmer in-his-own-words (or something) documentary. Every human being who believes thoughts. (One woman protests.) Your actions are evil. God said that anyone who has anger is a murderer. Anyone who would put his son's, friend's, husband or wife's business in the street is a Jeffrey Dahmer.
11:31 Hassan reflects on Jesse saying Black Lives Matter is worse than the KKK. We are a soul, not the body. The Devil doesn't want you to see it.
Jeffrey followed a thought, and it got worse, and worse. The mother when pregnant with Jeffrey was angry and on medication. She didn't want anybody to touch him, and she rarely touched him. The parents broke up because she was so angry; the father couldn't protect Jeffrey from the mother, because he was nice and weak. Experts offered Jeffrey medication.
We are possessed with spirits of the Devil. Unless you see it and accept it, how will God free you if you don't want to see it? He won't take anything away from you that you don't want taken away. You are evil. We are possessed in the imagination and the physical body. It wounds, walks, talks, and feels like us — and we believe possessed experts' lies.
11:36 Hassan reiterates: No man is good except God alone. Jeffrey may have started out with animals. (Jesse goes into detail about what Jeffrey did to human beings.) He admitted something was driving him. Paul said the same: It's not me, but the spirit that made a home.
Hassan talks about our attempts to try to fill a void, getting married to make a family — only adding to the problem! Jeffrey started with a thought.
Keep the mind with the body
11:41 A man talks about staying conscious, keeping your mind where your body is.
The thoughts give you ideas and answers that are wrong.
Jesse's advice to the father's son
11:46 Franky talks about anger and filling the need for love. Jesse points back to the father who's destroying his suicidal son, and angry at his son! The father calls the son immature.
Dealing with thoughts and attacks
11:48 James asks a super chat from YouTube: when someone yells at you or attacks you with words, do you just stop and observe and not respond like Christ?
Jesse says anyone who gets shy, you're worshiping the Devil. You're evil. That's not a normal state of being. There's no shyness in God, but only love.
Doug says anything is possible when you follow thoughts. Never say you would never eat a dead body. You would.
Franky talks more on Dahmer.
Jesse advises the 11-year-old daughter not to identify with anger as you.
'That's your opinion'
11:53 A young man argues with Jesse that calling the young man evil is just Jesse's opinion. Jesse agrees to one thing: Don't let me convince you at all.
Hard to admit you're evil; not you but the Devil in you
11:56 Jesse talks with a young woman about the light shining. The hardest thing in the world is for people to admit that they're evil. You're fighting for your life.
11:59 Talking with an older mother, Jesse advises her: Once you truly see it, you'll see you're not evil, but the thing in you is evil. The intellect is evil. It's all the same spirit.
Feel the pain
12:02 Jesse urges the woman not to take the walk at work when people get to you. Stay in the pain. Christ said, Forgive them; they know not what they do.
Passion is a false feeling. Feelings are imposters
12:04 James asks another Super Chat question: Is passion for anything a false feeling? Jesse talks about a friend who wanted to be somebody in the world.
Jesse talks about people getting help on the show versus not: They're both imposters, taking credit from it. Jesse watches to see what he feels about both thanks and insults.
A man says we're like puppets.
Have you been keeping your mind with the body?
11:07 Jesse asks some young people for their feedback. A mother talks about being aware.
The highest form of prayer is to be still, Jesse says. The battle has been won. If you don't love all (including your enemy), you love none. Love simply means don't hate them.
'Like' is a made-up word
12:11 "Like" is a made-up word, Jesse says. You don't have to hang out with them. But don't judge them.
The Devil doesn't want you to be still
12:13 Jesse asks a first-timer his feedback. He has not started the Silent Prayer. The Devil will not let you be still. They're not your thoughts; they're the Devil's thoughts. Get to the point of no thoughts — only practical thoughts to deal with physical things.
Dreams question
12:14 A woman asks about dreams. She dreamed about Jesse at one point! She dreamed for three months that someone would hold her hostage. Then she says her ex-boyfriend held her at gunpoint, and pistol-whipped her — and she bled from the head.
BQ: Are you responsible for your own life?
12:19 Biblical Question: Are you responsible for your own life?
The Devil talks to you about the truth
12:20 Jesse says: The Devil will let you hear the truth, and then will talk about the truth to you, and you think it's you. So Jesse advised a friend: When the conversation is over, don't keep having a conversation about it. It's just like the Devil quoting the Bible to you.
Child: Yes, I have chores to do.
12:21 A little kid says she is responsible for her own life because she has chores to do. (Maybe it was a little boy — not sure!)
A mother speaks, and then another young lady.
The light destroys the darkness
12:24 Hassan says he's responsible for knowing he's not responsible.
12:25 Jesse explains the light of God will destroy the darkness. That's why salvation is of the heart.
Why do you believe you are or are not evil?
Jesse then asks the hands of those who do believe, and who do not believe they're responsible for their own life.
There is no you. The Devil is divided.
12:28 Who is the person who thinks you're responsible for your own life? You have to believe there's a second person who's responsible for your life. There is no you to be responsible for your life. The Devil does this, because the Devil is divided.
There is no yesterday or tomorrow. You want to be whole. Stop putting titles to yourself.
12:32 When you take off flying in an airplane, at first all you see is clouds. But when you get above that, you see clearly.
Next assignment: Self-comments
12:32 Hassan asks if we're responsible for staying aware.
12:33 Jesse gives the next assignment: This week, do self-comments. When you get a thought and a feeling, ask who gave you that thought, and say the feeling is not you. Everything starts with a thought. (Also: Continue to keep your mind with the body.)
Stay with prayer. Closed Thu-Fri for Thanksgiving!
12:34 Jesse urges to stay with the silent prayer. Watch yourself. If someone makes you feel good or hurts your feelings, relax in it and know it's not real. It's an illusion, feeling up and down. Most love living that way.
Thanks for the support. We offer counseling. 800-411-BOND. God is with you.
The office is closed Thursday and Friday for Thanksgiving. We will do a live show Thursday, but a replay on Friday. Happy Thanksgiving! Stay on the straight and narrow. Don't look back nor forward.
BOND INFO
Church with Jesse Lee Peterson Sun 11 AM PT  rebuildingtheman.com/church
SILENT PRAYER  SilentPrayer.video  |  SoundCloud
DONATE / CONTACT:  Call 800-411-BOND (2663), or 323-782-1980
CHURCH LINKS
YOUTUBE  2016-present  |  2008-2013+  |  1991-1998 (select recordings)
PODCAST  Apple  |  Spotify  |  Google  |  Amazon  |  Castbox  |  Pocket Casts  (RSS)
LIVE  YouTube  |  Rumble  |  FB  |  DLive  |  Odysee  |  AUDIO  JLP Live!
—