15 Nov

Judging Your Fellowman with the 'Knowledge of Good'

After discussing the attack on Christians around the world, we talk about self-righteous church people pouncing on others with "the truth."

VIDEO  YouTube Premiere (Weds. 11/16/22)  |  BitChute  |  Rumble (BOND)  |  Odysee  |  Facebook  ||  See links below 

AUDIO  Apple  |  Spotify  |  Castbox  |  Podcast Addict  |  Google  |  Amazon  |  SoundCloud  

BOND Archive Sunday Service, October 27, 2013: Jesse Lee Peterson speaks at American Freedom Alliance tonight, Christians and Jews calling attention to persecuted Christians in the world. // BOND received a letter from a former Sunday Service and Men's Forum attendee who felt judged and singled-out in his suffering and learning. Some fess up to their prideful preaching at new people, puffed up with the "knowledge of good" — yet they don't live the truth themselves! We read Bible passages, 1 Corinthians 13: 1-13, about love, and Luke 6: 27-38, Jesus speaking on loving your enemy. //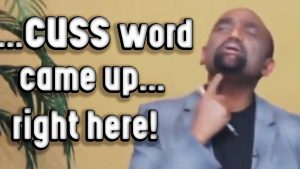 WATCH CLIP  YouTube  |  BitChute  |  Rumble  |  Odysee  | Jesse Lee Peterson reads a letter from a former BOND attendee who was run off by people puffed up on knowledge.
TIME STAMPS
00:00 Sun, Oct 27, 2013

00:51 Attacks on Christians

05:01 Christians in America

07:43 Muslims in America

12:15 Church members pouncing visitors

19:11 Someone driven off at BOND

21:11 Letter: Mixed review…

23:16 Letter: "Judged and singled-out"

25:51 JLP: Knowledge of Good and Evil

28:27 Don't mean to be yelling…

29:15 Letter: Crying cancer patient laughed at

30:05 Letter: "…could be walking on water"

31:37 Letter: Most don't have love

32:24 JLP reaction: Stop preaching!

33:56 JLP: Make me wanna cuss! 

35:45 Learn to deal with judgment? God is patient.

38:32 Parent won't confront bad kid's parent

40:46 Be normal! Revelation from God: Wisdom

46:52 Father took criticism of child personally

49:11 Bible passage: 1 Corinthians 13: 1-13 

52:05 Knowledge of Good and Evil? No love. 

53:28 Bible passage: Luke 6: 27-35 Love enemies

55:40 Luke 6: 36-38: Do not judge, do not condemn.

56:22 Closing: Know yourself. Don't judge yourself.
BOND Archive Services normally premiere on YouTube Wednesdays at 4 PM PT. (Hake the producer was out for three months, so this is the first since August!) 
BOND INFO
Church with Jesse Lee Peterson, Sun 11 AM PT  rebuildingtheman.com/church 
SILENT PRAYER  SilentPrayer.video  |  SoundCloud  
DONATE / CONTACT:  Call 800-411-BOND (2663), or 323-782-1980 
CHURCH LINKS
YOUTUBE  2016-present  |  2008-2013+ (Archive Services)  |  1991-1998 (select recordings)  
PODCAST  Apple  |  Spotify  |  Amazon  |  Google  ||  RSS Feed  |  SoundCloud  
LIVE  YouTube  |  Rumble  |  FB  |  DLive  |  Odysee  |  AUDIO  JLP Live!  
—