23 Feb

02/19/12 Why You Still Have Fear (Sunday Service Archive)

(BOND YouTube Premiere, 4 PM PT, Weds, Feb 24, 2021; audio podcast will be available via links below)

BOND Sunday Service, February 19, 2012: Jesse Lee Peterson leads a church discussion on fear and the children of God. People are getting suspended and fired for saying things that others find "offensive," because Christians are afraid. We have freedom of speech in this country, and freedom to disagree, but it should not come to the point where you should lose your job over it. 

We also touch on forgiveness and relationships with parents and others. One young woman's mother still gets to her at times, while another young man feels he still resents others. 

We need to take responsibility for our own actions and not blame others for tempting us. 

Throwback Sunday Services premiere on BOND YouTube channel Wednesdays at 4 PM US Pacific Time (7 PM ET). (Note: Sorry about no premiere last week!)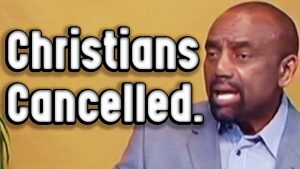 In the clip excerpt from this meeting, Jesse talks about dropping anger, fear, and doubt as a Christian. He describes what's now known as "cancel culture" — before it became a popular term. The world is running things unjustly in America, disrespecting freedom of speech and shutting out truth. People are losing their jobs and freedoms because Christians are afraid. Many white Americans are intimidated by the phony cries of racism. It's a spiritual battle.
BOND INFO
Church with Jesse Lee Peterson is live every Sunday 11 AM U.S. Pacific Time at BOND in Los Angeles. Watch/listen online or join us in-person. Doors open at 10:30 AM. Church streams 11 AM through 12:30, Pacific Time. https://rebuildingtheman.com/church 
Contact BOND to schedule counseling, set up monthly donation, order books, or join our mailing list: Call 800-411-BOND (1-800-411-2663) or office 323-782-1980, hours Mon-Fri 9-4 PT (Los Angeles). https://rebuildingtheman.com/contact 
CHURCH LINKS
AUDIO PODCAST: Apple | Spotify | Castbox | Podcast Addict | TuneIn | Stitcher | Deezer | Amazon | Google | RSS feed 
VIDEO ARCHIVE: OLDER Services (2008-2010+) | RECENT Services (2016-present) 
WATCH LIVE on YouTube | Facebook | Periscope | DLive | Trovo | Twitch 
LISTEN LIVE on Jesse Lee Peterson's radio player during Church on Sunday
SILENT PRAYER: SilentPrayer.video | Audio on SoundCloud