13 Apr

03/25/12 George Zimmerman / Trayvon Martin (Archive)

(BOND YouTube Premiere, 4 PM PT, Weds., April 14, 2021 – Audio Podcast via links below)

BOND Sunday Service, March 25, 2012: Jesse Lee Peterson invites people to comment on the George Zimmerman-Trayvon Martin incident in Sanford, Florida. Many black leaders are protesting, calling the "white Hispanic" neighborhood watchman "racist." There were rumors and speculation (later debunked) about Zimmerman saying a "racial slur" on the 911 call. (Zimmerman would later be exonerated for the self-defense shooting of the 17-year-old black male.) Jesse talks about how thoughts deceive, leaders don't care, parents fail, and black Americans fall for lies and anger. At the end we read Romans 8: 28-39.
TIME STAMPS
0:00 Welcome to Church

0:50 Spiritual battle

1:21 GZ white Hispanic

3:51 Feedback: Racist?

18:07 Racial slur?

22:27 No gun?

26:27 More feedback

27:50 Witness?

31:00 On black youth

35:54 Politics

40:34 Jesse: thoughts deceive – CLIP: Jesse's monologue (21 mins) 

44:30 JLP: More lives

48:05 Roland Martin, "leaders"

52:16 White kid set afire

54:23 Leaders don't care

58:37 Romans 8: 28-39

1:00:28 Support BOND
Throwback Sunday Services premiere on BOND YouTube channel Wednesdays at 4 PM US Pacific Time (7 PM ET).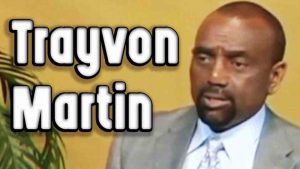 BOND INFO
Church with Jesse Lee Peterson is live every Sunday 11 AM U.S. Pacific Time at BOND in Los Angeles. Watch/listen online or join us in-person. Doors open at 10:30 AM. Church streams 11 AM through 12:30, Pacific Time. https://rebuildingtheman.com/church 
Contact BOND to schedule counseling, set up monthly donation, order books, or join our mailing list: Call 800-411-BOND (1-800-411-2663) or office 323-782-1980, hours Mon-Fri 9-4 PT (Los Angeles). https://rebuildingtheman.com/contact 
CHURCH LINKS
AUDIO PODCAST: Apple | Spotify | Castbox | Podcast Addict | TuneIn | Stitcher | Deezer | Amazon | Google | RSS feed 
VIDEO ARCHIVE: OLDER Services (2008-2010+) | RECENT Services (2016-present) 
WATCH LIVE on YouTube | Facebook | Periscope | DLive | Trovo | Twitch 
LISTEN LIVE on Jesse Lee Peterson's radio player during Church on Sunday
SILENT PRAYER: SilentPrayer.video | Audio on SoundCloud