20 Apr

04/01/12 Are There Two Different Christianities in America Today?

(BOND YouTube Premiere, 4 PM PT, Wednesday, April 21, 2021 – audio podcast will be available via links below)

BOND Sunday Service, April 1, 2012: Jesse Lee Peterson talks with the people more about drama over the Trayvon Martin and George Zimmerman incident (which we first discussed the prior Sunday, 03/25/12). Many churches and phony preachers such as T.D. Jakes preach anger. We also talk with one another about personal lives, marriage, and relationships.
TIME STAMPS (Full Service)
0:00 Welcome to Church

1:50 Two Christianities

8:56 Movement of anger

12:44 JLP hosted a show

19:28 They don't want justice

23:12 Ladies judging themselves

29:44 Don't believe the lie

39:39 Young black men in danger?

53:09 Know Him by His voice

1:00:17 Support BOND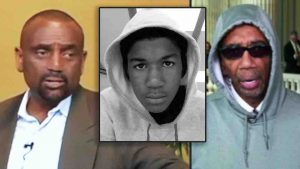 24-minute CLIP: Jesse reads 1 Corinthians 2: 14-16, and talks about two Christianities in America: "social justice" Christians rooted in anger, versus real Christians who love truth with no anger. How do you know which group is right? We talk about the Trayvon Martin-George Zimmerman controversy. The media clearly takes the side of the false Christians, while smearing and marginalizing the true Christians. It may look bleak, but we will win.
Throwback Sunday Services premiere on BOND YouTube channel Wednesdays at 4 PM US Pacific Time (7 PM ET). 
BOND INFO
Church with Jesse Lee Peterson is live every Sunday 11 AM U.S. Pacific Time at BOND in Los Angeles. Watch/listen online or join us in-person. Doors open at 10:30 AM. Church streams 11 AM through 12:30, Pacific Time. https://rebuildingtheman.com/church 
Contact BOND to schedule counseling, set up monthly donation, order books, or join our mailing list: Call 800-411-BOND (1-800-411-2663) or office 323-782-1980, hours Mon-Fri 9-4 PT (Los Angeles). https://rebuildingtheman.com/contact 
CHURCH LINKS
AUDIO PODCAST: Apple | Spotify | Castbox | Podcast Addict | TuneIn | Stitcher | Deezer | Amazon | Google | RSS feed 
VIDEO ARCHIVE: OLDER Services (2008-2010+) | RECENT Services (2016-present) 
WATCH LIVE on YouTube | Facebook | Periscope | DLive | Trovo | Twitch 
LISTEN LIVE on Jesse Lee Peterson's radio player during Church on Sunday
SILENT PRAYER: SilentPrayer.video | Audio on SoundCloud