01 Jun

05/20/12 The Christian Spiritual Life (Romans 8) (Archive)

(BOND YouTube Premiere, 4 PM US PDT, Wednesday, June 2, 2021 – see other services via links below)

AUDIO PODCAST: Apple | Spotify | Castbox | Podcast Addict | TuneIn | Stitcher | Deezer | Amazon | Google | RSS feed 

BOND Sunday Service, May 20, 2012: Jesse Lee Peterson talks briefly about marriage — one man has trouble with his wife. We then read from Proverbs and Romans 8. The Bible says Christ is our brother. God chooses certain people for a mission; everyone can be born again. We don't know what good is. No man is good; only God is good. Some people think they do good things, such as to help their mother in financial need. Most of the time, it's out of guilt or for one's own ego. In quiet prayer, the Spirit intercedes on our behalf.

Throwback Sunday Services premiere on BOND YouTube channel Wednesdays at 4 PM US Pacific Time (7 PM ET). 
TIME STAMPS
0:00 Welcome to Church

0:50 Marriage trouble

3:33 Jesse joking around

4:28 Purpose of marriage?

6:28 After 50 years…

10:50 Standoffish?

13:32 Reading difficulty

15:06 Proverbs 3: 1-12 – CLIP: All Can Be Saved, But Not All Will Be (14 mins) 

16:43 Love, forgiveness

18:37 Fumbling for reader

21:00 Romans 8: 1-39

27:37 Christ our eldest brother

29:40 Q's: God chooses…?

34:10 God is with us – CLIP: No Man Is Good (10 mins)

37:46 Only wickedness within

41:27 Doing "good" 

43:07 No feeling

46:01 Evil or good within?

48:42 Doing acts of good?

50:32 Story of a drunk daughter

52:03 Prayer: Spirit intercedes

55:36 Watch yourself

57:14 Support BOND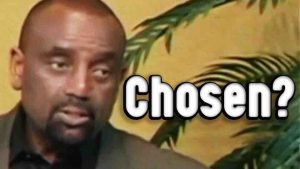 Clip (14 mins) – Jesse has people read passages from Psalm 3: 1-12 and Romans 8: 1-30. You should learn to accept correction. Christ made a way for us back to the Father. Some at Church ask: Who are the chosen ones? What about people who never hear about Jesus nor know the Bible?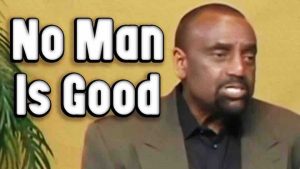 Clip (10 mins) – Jesse talks about the consciousness, or conscience, that God put in us. No man is good; human nature is evil. But God loves us and is with us. You may not know how to pray, but the Spirit intercedes on our behalf. You can overcome all things. Keep an eye on yourself to realize that you're no good; take the ego pain, and God will change you. You can get past it.
BOND INFO
Church with Jesse Lee Peterson is live every Sunday 11 AM U.S. Pacific Time at BOND in Los Angeles. Watch/listen online or join us in-person. Doors open at 10:30 AM. Church streams 11 AM through 12:30, Pacific Time. https://rebuildingtheman.com/church 
Contact BOND to schedule counseling, set up monthly donation, order books, or join our mailing list: Call 800-411-BOND (1-800-411-2663) or office 323-782-1980, hours Mon-Fri 9-4 PT (Los Angeles). https://rebuildingtheman.com/contact 
CHURCH LINKS
AUDIO PODCAST: Apple | Spotify | Castbox | Podcast Addict | TuneIn | Stitcher | Deezer | Amazon | Google | RSS feed 
VIDEO ARCHIVE: OLDER Services (2008-2010+) | RECENT Services (2016-present) 
WATCH LIVE on YouTube | Facebook | Periscope | DLive | Trovo | Twitch 
LISTEN LIVE on Jesse Lee Peterson's radio player during Church on Sunday
SILENT PRAYER: SilentPrayer.video | Audio on SoundCloud 
—