13 Jun

06/13/21 Taking Care of Parents and Children Raising Children (Church)

Where did the idea come from that adult children have to take care of their parents? Don't make your children raise your other children!

TODAY'S SERVICE: YouTube | Facebook | Periscope/Twitter | Older services at links below

AUDIO PODCAST: Apple | Spotify | Castbox | Podcast Addict | TuneIn | Stitcher | Deezer | Amazon | Google | RSS feed 

Church with Jesse Lee Peterson, Sunday, June 13, 2021: We open by welcoming first-time visitors, then take questions from the people. One man found new energy after forgiving his father, where anger once restricted him. Where did the idea come from that adult children have to take care of their parents? A young man lives with his grandmother, and his father fights with her. 

The world has gone crazy: they call pregnant mothers (women) "birthing persons," and don't want to call babies boys and girls. Evil seeks to destroy the image of God. 

Parents, do not make your children raise their younger siblings. That's your job! 

We deal with Jesse's Biblical Question of the week: Does the Bible say Jesus was angry? We also introduce his new Biblical Question: Are human beings able to forgive? 

ANNOUNCEMENTS: Women's Forum this Thursday, 7 PM at BOND in Los Angeles! Our annual Men's Conference is in August in Orlando, FL. rebuildingtheman.com/events 
TIME STAMPS
0:00 Pre-church small talk

4:10 Welcome to Church

6:50 Do women have love?

11:28 More first-timers

13:09 Q: Choose thoughts?

16:29 Q: Love, not like?

18:21 Man forgave father

29:41 Mike Tyson and JLP

32:21 How to help father

36:09 Take care of parents?

39:59 Paul, grandma, father

46:09 Hispanic culture, elders

51:20 More: taking care of…

1:12:14 Movie story

1:16:47 Children raising children

1:20:28 Emotions are evil

1:23:08 Babysitters?

1:29:11 Messed up churches

1:31:10 Biblical Q: Jesus angry?

1:36:46 New BQ: Can humans forgive?

1:40:34 Closing comments

1:42:07 Announcements / End
Church Notes
(We start streaming just about 11:00 AM US PDT…)
Jesse opens by welcoming first-time visitors. 
11:08 He talks with one lady, a friend of Margaret, about women not having love, and about anger. Another young lady, Yesenia (sp), joined us with her friend Amber. Matthew saw Jesse on Larry Elder's "Uncle Tom" movie seven months ago, and now watches The Jesse Lee Peterson Show regularly. 
Questions from the people
11:13 Ermias asks if you choose to have thoughts. For example, it seems like you can choose to stay in lustful thoughts or not. But Jesse asserts that anyone who thinks they have control of their life is on an ego trip. 
11:16 A man asks: Can you love someone and not like them? No such thing as like. It's a worldly made-up word. He says he loves his relatives, but does not like them. But if you love them, why do you need to like them? There's only love or hate, but no in-between. 
11:17 Francisco comments on how we're influenced, going off of what Ermias talked about. 
Man is energized after forgiving his father
11:18 A young man talks about forgiving his father, and the confrontation over dealing with his mother and his son. His father's a strong believer in free will, living by the motto, "If it's to be, it's up to me." He helped his father who got injured, and it stressed him out so badly that he was hospitalized and medicated. Realizing that there was no help from the field of medicine, he found Jesse's videos after listening to Jordan Peterson. He got motivation for a short time before finding Jesse's message, but his anger held him down. 
11:23 In response to the young man, Jesse says: When you overcome anger completely, you have natural energy. It replaces the false energy that comes from hate. Stay with the Silent Prayer, no matter the temptation. God wants you to be present with Him at all times. You don't want the emotions taking you to Cloud 9; they'll also stomp you down. Emotions are evil. 
11:26 The man recounts a conversation with his father about fathers leaving their children. He says they have almost a shrine to his mother. He says she's smoked pot from age 18 to the present, at age 38 — although he says he doesn't have such a need for it now. 
11:30 Jesse recounts going on Mike Tyson's podcast and getting "contact high" because the people on the show were smoking pot and eating mushrooms. But don't worry about the pot, because it will fall away once your heart changes. 
11:34 One man talks about the notion of "like" and "love." Jesse reiterates that you have only love or hate. 
Taking care of parents when they're old?
11:36 Jesse then asks a young lady: Where did this idea come from that you should take care of your parents when they're old? She does not have parents; her mother died when she was young. Start taking care of yourself now, so that when you do become old, you won't be a burden to your children. If you decide to help your parents, it should not be out of guilt. If you do it out of guilt, that's not love; you're being controlled. That's insane. 
Jesse recounts his grandmother not wanting to stay with family when she got old. 
A young man lives with his grandmother and his father
11:40 Paul talks about his father getting into fights with his grandma, with whom he's also living. Don't get involved, and don't get mad at either one of them. Paul also asks about parents who can't let go of their adult children. They're selfish; they get a false sense of ego. Don't spoil your kids. Throw them out at 18. That's love. Paul is 20 now, and is living there because he's retrofitting her house. Jesse warns him that he feels for his grandmother because he has her identity. 
In life, we get what we deserve. Jesse says this because Paul's grandmother is having trouble with her son, his father. 
11:46 A lady with Costa Rican heritage comments that Hispanics are taught to take care of the elderly. But she was raised here, and she raised her children to be independent. 
11:51 Margaret says she has to go to the courts to get her son, Paul's 46-year-old father, out of the house. 
11:53 Another man says his mother's dad asked his father to take care of his mother-in-law — on his deathbed. So she moved in with his dad after her husband died. 
11:57 In Costa Rica, there's a law against the abandonment of the elderly. If you don't take care of your parents, you can go to prison! So Jesse asks: Who's going to take care of them when you're in prison? 
11:58 A man says that when Jesus was on the cross, he told Mary that John was now her son, and she his mother.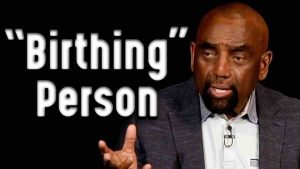 11:59 The world's gone crazy. They don't want you to say that a woman had a baby; they call them a birthing person. They don't want you to call the baby a boy or girl. Why are they doing it? 
A couple of people give their response for why. One young lady says they experiment with mixing men and women and animals. Samuel says Satan already has women on lock. Jesse says that they took God out of schools. They're destroying the image of God and bringing in the image of Satan. You have Bruce Jenner in a dress, running for governor. And there are conservatives who would vote for him. 
It's a spiritual battle. The light needs to shine on the darkness. We can defeat it. 
12:05 Who would send their children to school, knowing they'd be taught Critical Race Theory? It's not even a secret anymore! 
Do everything with love so you can't go wrong. They want you to do wrong. 
Anyone who has anger in his heart is committing murder. 
They're trying to erase anything that came from God. Stay with the Silent Prayer; stay out of your head. They're trying to pass laws to shut you down. It'll get worse before it gets better. But if you love God, you don't have to worry about it. If you have fear, you don't love God. 
If you get into a debate, tell the truth, but don't get angry. 
12:08 A man says we're the chosen ones to do God's will. Jesse is not sure about that. But Jesse says when you overcome evil with good, God is preparing you. 
Another man says it's communism. They're legalizing drugs because they want you out-of-control. They're evil; they can't help it. Stay with God. 
Parents making their children raise their children
12:12 Jesse watched a movie about a man who married and moved away. But the man cheated on his wife, and his son saw it. The man ended up killing the woman he cheated with, but denied doing it. They had names for this guy, such as psychopath. But his mother was a schoolteacher; she made him at 12 or 13 raise his young sister while she worked. The girl was run over by a car on his watch, and the mother guilted him, blaming him for it. He shutdown and showed no remorse for it. 
So the man left home, became successful, but was emotionally out of it. They made him feel like he was responsible, while his mother pretended not to have any responsibility. But it's her fault. 
Jesse tells this story because so many parents are making their children raise their younger children. Don't do that! That's evil! 
Several people in church raised their younger siblings. Some people talk about their experiences in their families. 
12:25 Satan wants to traumatize you; God has a perfect order. For a single mother, overcome the anger. 
12:29 The churches on TV are so dumb! 
Biblical Question: Does the Bible say Jesus was angry?
12:32 One guy points out that the Bible never says Jesus was angry when he turned over the table in the temples. Many try to call their anger "righteous anger," and pretend they're like Jesus. 
Is righteous anger in the Bible, or was that term made-up too? 
New Biblical Question: Are human beings able to forgive? 
12:37 Jesse asks his new Biblical Question: Are human beings able to forgive? Several people give their response. 
Closing comments
12:41 Jesse urges people: Stay with the Silent Prayer. All thoughts are lies all the time. 
ANNOUNCEMENTS
Women's Forum this Thursday, third Thursday of the month, 7 PM at BOND in Los Angeles! 
Our Men's Conference is coming up. There is a cutoff date, so make sure you go to https://rebuildingtheman.com or https://jesseleepeterson.com 
Stay with the prayer and stay out of your head. We'll read your Super Chats tomorrow, Monday! Father's Day is next Sunday! Thanks, everyone!
BOND INFO
Church with Jesse Lee Peterson is live every Sunday 11 AM U.S. Pacific Time at BOND in Los Angeles. Watch/listen online or join us in-person. Doors open at 10:30 AM. Church streams 11 AM through 12:30, Pacific Time. https://rebuildingtheman.com/church 
Throwback Sunday Services premiere on BOND YouTube channel Wednesdays at 4 PM US Pacific Time (7 PM ET). 
Contact BOND to schedule counseling, set up monthly donation, order books, or join our mailing list: Call 800-411-BOND (1-800-411-2663) or office 323-782-1980, hours Mon-Fri 9-4 PT (Los Angeles). https://rebuildingtheman.com/contact 
CHURCH LINKS
AUDIO PODCAST: Apple | Spotify | Castbox | Podcast Addict | TuneIn | Stitcher | Deezer | Amazon | Google | RSS feed 
VIDEO ARCHIVE: OLDER Services (2008-2010+) | RECENT Services (2016-present) 
WATCH LIVE on YouTube | Facebook | Periscope | DLive | Trovo | Twitch 
LISTEN LIVE on Jesse Lee Peterson's radio player during Church on Sunday
SILENT PRAYER: SilentPrayer.video | Audio on SoundCloud