20 Sep

09/20/20 Sun. Single Mother; Landowner Voters? Homosexuality…

TODAY'S SERVICE: YouTube | Facebook | Periscope | Twitter | Podcast at links below

Church with Jesse Lee Peterson, Sunday, September 20, 2020: A single mother wants to raise her son right. Jesse's feelings on RBG's recent passing: None. A 20-year-old man prepares to marry. Biblical Question: If a person does not own land, should he be allowed to vote? Don't get into your head (worry) about situations. Young people see homosexuality as normal! We are a spirit; God will cause you to become a man (or woman). Apologies are the world's false imitation of forgiveness! New Biblical Question: Should President Trump appoint a man or woman to fill the Supreme Court vacancy? 
TIME STAMPS
0:00 Pre-Church stream

1:27 Welcome to Church

4:00 A single mother

25:03 On RBG

34:01 20yo man and gf

53:33 Other Q's and stories

1:09:28 No sex before marriage

1:13:16 Biblical Q and more

1:18:54 Homosexuality

1:29:17 We are a spirit

1:31:14 When Jesse's President

1:33:32 TMI

1:35:02 Apologies vs forgiveness

1:45:22 New Bib Q (and more)

1:51:24 Closing comments

1:55:20 Happy b-day, Franky

1:57:20 Support BOND
Questions from a Single Mother
A young single mother asks Jesse if she has a chance to raise her son right. Her boyfriend sitting next to her keeps piping up, and Jesse keeps telling him to be quiet, and calling him "Mama!" She and her boyfriend (not the boy's father) split up because of watching Jesse's videos. She wants her son to be successful and forgive her and his father. Her son's turning 1 next week! Jesse told the Women's Forum last Thursday (third Thursday of the month, 7 PM at BOND in Los Angeles) — don't be desperate for men, ladies! 
Jesse urges the young lady to be glad to feel that way. A relative of Jesse's is desperate for a man, and does not want to listen to his good advice. Jesse urges her to do his Silent Prayer silentprayer.video She did not go to forgive her mother, thinking she silently forgave her in her heart. Face your parents — especially the mother. She's the hardest one. You'd rather face Hitler than your mother! 
Her boyfriend Spencer (he said a different name) used to spend a lot of money on her, and she'd drive him around. He smoked pot a lot, and other things. 
JLP's Comments on RBG's Death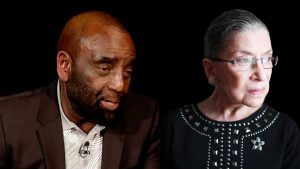 Another single mother who organized a conservative rally asked whether she's a bad Christian for being glad that Supreme Court Justice Ruth Bader Ginsburg died this past Friday. She was an evil woman. Jesse felt nothing about it, and does not know of anything she stood for that was good — being pro-abortion, and other things. The lady complimented "three lovely guys" who apparently invited her to Church. 
Cheryl also talks about RBG's ego, in a story from Barack Obama's presidency. 
A 20-year-old Man Preparing to Marry
Ezekiel, age 20, joins us from Bakersfield, CA, with his girlfriend. They hope to marry in the next year. They touch on the shutdowns of the schools, about which Jesse feels happy. Jesse urges him not to be in a rush. Instead, he should do it in the right way, so that he can take care of his wife — and so she won't resent him. 
Ezekiel's mother was cruel when he was growing up, and so he forgave him. His voice seems to shake when he mentions that he does not have a relationship with his father. However, he seemed to say that he lives with both parents currently. But the father drinks and does drugs, according to him; he has not asked his dad to talk in a long time. Jesse urges him not to judge his father. 
Ezekiel's girlfriend, Anna, asks about Jesse's message to forgive one's parents. She's afraid of causing a problem while living with her parents. Admittedly, she fears her mother! Jesse invites her to Skype in on his radio show with her mother, so that they can work it out. Her father is terrified of her mother, too — according to her! Jesse encourages her not to react if her mother overreacts or even dies. 
Other questions and topics
James reads a Super Chat about mothers treating their children like boyfriends or girlfriends. We have a false start with a caller. 
A man who joined us two years ago is incredibly angry with his mother, even writing down a list of wrongs by her. He does not forgive her. He wants to Skype with her privately. Jesse strongly urges him to do the Silent Prayer. He does not resent his father who died. 
A conservative singer lady complains that other churches won't sing because of shutdowns over Covid. Local authorities accused her friend of "reckless endangerment of children." She says people roughed her up singing at a rally. 
James reads another Super Chat question, asking hot to forgive someone who humiliated you. Should you? Yes — even Black Lives Matter. 
Peyton from Miami, FL, worries about telling his girlfriend that he does not want to have sex anymore before marriage. 
Biblical Question and more
Jesse then asks his Biblical Question: If a person does not own land, should they be allowed to vote? Only a couple of people respond. 
A young man feels irritated, thinking about what he must deal with in his life. He received a message saying that he needs to be up at the DMV near San Francisco, CA, to take a test. On the police officer's citation, instead, he wrote, "Under duress," which he says is part of his rights. So police reported him to the DMV as emotionally unstable or something. Jesse urges him to stay out of his head about it. 
Do you see homosexuality as normal or abnormal?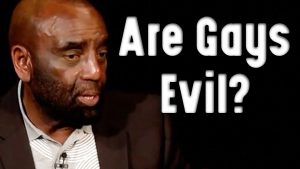 Then Jesse tells a story about young people not seeing homosexuality as abnormal, since their friends are into it. Because they grew up with it as children, they saw it as normal. Brainwashing! He then asks people whether they see it as normal or abnormal. Do you see homosexuality as evil? 
A young man talks about his relationship with his mother who overly mothered him. Jesse advises him to ask his father why he did not protect him from his mother. He's been watching Jesse's talk show The Fallen State for over a year now. 
Jesse then says that the people who are into homosexuality is not necessarily evil; they just don't know how to overcome it. 
Great, brief monologue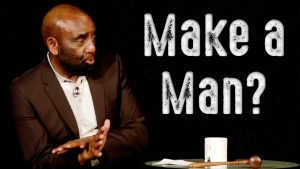 We are a spirit, created in the image of God. He will cause you to grow into a man. And a lady will grow into a woman. That's why we need good examples in the home. Fathers are like a light. Women need men to be of the light. 
Answering the Biblical Question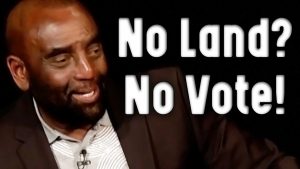 Jesse thinks that if you do not own land, you should not be allowed to vote. Jesse gets a round of applause when he talks about what he'll do when he becomes president. 
Jesse urges a young man to come to the Men's Forum after he admits to some dirty nasty self-indulgent things! 
Apologies vs forgiveness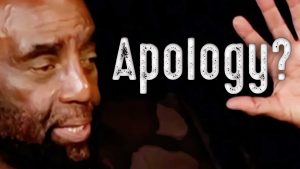 Very interesting question: Have you ever done something to someone and apologized for it? Did they get mad at you if you did it again? If so, then they did not forgive you the first time you apologized! The Bible says to forgive, but it does not say apologize. If you apologize, sometimes you have to go back and repeat it. Forgiveness is from God, and an apology is from the world — a false imitation of forgiveness. 
A first-time visitor Denise joined us with her dad. She says that she went to her mother to forgive her. She still lives with her at 21, trying to go to school. Get a job! Get out! 
Brand new Biblical Question
Should President Trump pick a man or woman for the U.S. Supreme Court position? 
Daniel says that his dad got arrested three weeks ago and asked him for money. So he wants to ask his dad's mom. He'd like his grandmother to give his father his inheritance money, which he does not want. 
Closing comments and announcements
Do the Silent Prayer. All people must forgive. Speak up but don't resent. Doubt every thought. Thank you for your support! We'll be in Florida on the 2nd and 3rd of October. Go to jesseleepeterson.com for info. Again: Every thought is a lie! Stop hating one another. Don't hate the gays! 
A young man at the tail end of Church, from Compton, CA, realized that he's breaking the cycle of his family. Everyone who's waking up is starting a new generation, and spreading love instead of hate. 

CHURCH LINKS
PODCAST: Apple | Spotify | Castbox | Podcast Addict | TuneIn | Stitcher | Google | Deezer | RSS feed 
ARCHIVE: RECENT videos (2016-present) | OLDER Videos (2008-2010+) 
BLOG: Church Archives 
LIVE: YouTube | Facebook | Periscope | DLive 
SILENT PRAYER: SilentPrayer.video | Audio on SoundCloud 
BOND
CHURCH rebuildingtheman.com/church
COUNSELING rebuildingtheman.com/counseling
MAILING LIST rebuildingtheman.com/subscribe
STORE rebuildingtheman.com/stores
DONATE rebuildingtheman.com/donate
CONTACT: 800-411-BOND (which is 1-800-411-2663) or 323-782-1980