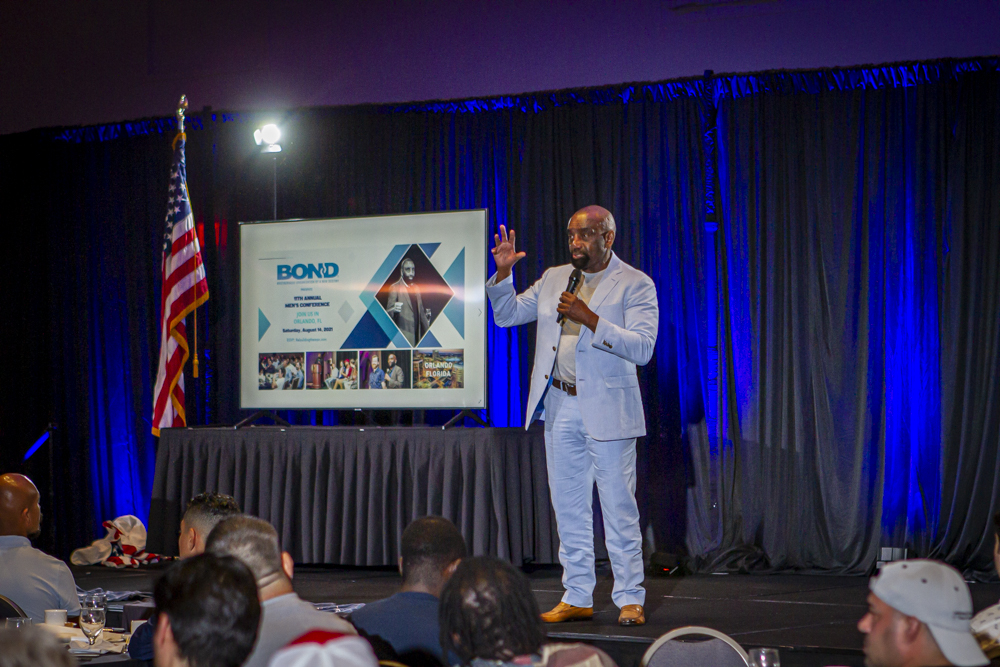 23 Aug

BOND'S 11th Annual Men's Conference Declared a Resounding Success!

BOND (Brotherhood Organization of a New Destiny), a nationally recognized nonprofit organization dedicated to "Rebuilding the Family by Rebuilding the Man," hosted its 11th Annual Men's Conference in Orlando, Fla., on Saturday, August 14th at the Rosen Plaza Hotel.

Approximately 350 men from all over the country attended the conference for an amazing evening of honest conversations about issues facing men and families, along with dinner, and comedy.

Comedian K-Von kicked off the evening with jokes and laughs for all. Millions have seen K-Von's appearances on NETFLIX, NBC's 'Last Comic Standing', and Dry Bar Comedy. This was the second time K-Von performed at the BOND Men's Conference and he didn't disappoint. K-Von did a terrific job personalizing his comedy to BOND's audience, and the way he inserted some of Jesse Lee Peterson's popular and funny catchphrases into his routine made his performance a hit.

Panel Discussion

The panel discussion featured Anthony Johnson, Founder of the 21 Convention; Arthur Kwon Lee, Award-Winning Artist & Social Commentator; and Shane McDonald, Licensed Mental Health Counselor & Certified Professional Coach.

Rev. Jesse Lee Peterson moderated the conversation which touched on various topics including what it means to be a man, faith, family, the role of women, and much more. The panelists—men with unique backgrounds—were honest in their dialogue. As the moderator, Jesse was in rare form with plenty of humor, and he did not let the guys get away with dodging questions. The panel was serious, yet it had many lighthearted moments and interesting perspectives.

Speaker Jeff Younger

Jeff Younger delivered a powerful speech encouraging men to fight for their rights as fathers. Mr. Younger is trying to save his eight-year-old son from transgender child abuse, and his custody case has garnered national media attention. His ex-wife cross-dresses his son and teaches him that he is a girl.

Younger has been fighting in the courts for years to save his son. Jeff has also pushed the Texas government to outlaw sex-change surgeries on minors. He succeeded earlier this month. The Texas Department of Family and Protective Services formally determined that sex-change surgeries on kids are, in fact, child abuse. But the Family Courts made him pay a price for speaking out and changing the laws: in retaliation, they took his kids and gave them to his ex-wife.

Younger's speech was very well received. A great and timely example of a man taking a stand for what is right. Jeff Younger is fighting to protect his children against the corrupt family court system and the liberal "mental health professionals" who are colluding with angry out of control women that want to destroy boys and separate fathers from their kids.

BOND Entrepreneur Academy Recognition

BOND operates an Entrepreneurship Academy for men and boys. The program helps men start businesses and assists entrepreneurs to help them enhance their businesses. Jesse brought on stage several of the men who have been helped by BOND and this unique program. The guys recognized at the conference include James Hake, Host of "The Hake Report"; Samuel "Mexican Car Wash Boy"; Isaac Palmer, Musical Artist; and "Sergio Music Boy" (all the way from Aruba).

Rev. Jesse Lee Peterson Speech and Open Forum Q & A

The conference concluded with a speech by Jesse Lee Peterson followed by the popular open forum Q & A between Jesse and the audience. This is by far the most popular portion of the evening where the guys get to ask Jesse anything and get the help they really need.

There were many testimonials about lives that have been transformed. One young man got up to the mic and said he used to be a leftist and that BOND and Jesse Lee Peterson's message changed his life. He said he was warned against attending the conference by his leftist friends, but he came anyway. His "friends" told him this is not the crowd you want to be around and you'll be sorry you went. The young man said he was glad he didn't listen and expressed his sincere appreciation for the event and the truth that changed his life for the better.

"The conference was truly amazing," said Rev. Jesse Lee Peterson. "I didn't have an expectation of how it would go, but it was better than what I could have imagined. The only thing I would do differently is to add more time in the program to take more questions to help the men with their issues. We are blessed to have this message and to have the platform to share it with so many people from around the country."

BOND Sunday Church from Orlando 

The next day BOND held Sunday Church Service in Orlando which was open to men, women & children. There were 350-400 families in attendance. The service streamed live so people can view it from anywhere in the world. People were open to hearing the truth and many lives were changed in the room. To watch BOND's Sunday Service from Orlando, CLICK HERE

Thank you to our sponsors for helping to make this event possible: 

Seton & Associates, ProAmerica360.com, Eastern Sling & Supply, UNCLE TOM II, BioDyne Enterprises, Phil L. Liberatore, CPA, and PX Credit Solutions 

Thank you to our donors, staff, volunteers, 21 Studios, and Rosen Plaza Hotel staff for helping to make this conference a success!