11 Jul

'Black Lives Matter is Worse Than the KKK,' Says Black Leader on Fox News

After the Dallas Police shooting that killed 5 and injured 7 others, Rev. Jesse Lee Peterson, Founder and President of BOND, appeared on "The Kelly File" on The Fox News Channel as part of a special on policing and race in America. During the program, Rev. Peterson had a heated exchange with #BlackLivesMatter activists and supporters about who's responsible for the violence and racial strife in the country.

Watch Rev. Peterson's exchange with a #BlackLivesMatter supporter.

Watch the entire program here

Rev. Peterson's latest book, "The Antidote: Healing America from the Poison of Hate, Blame, and Victimhood," addresses the root cause of racial division in our country and offers solutions to the ongoing conflict between police, blacks, and Black Lives Matter activists.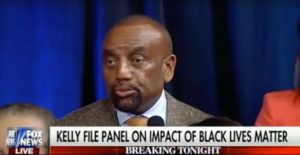 "The Antidote" is available in major bookstores everywhere and online at Amazon.com and Barnes & Noble. Signed copies available at the WND Superstore.