18 Mar

Sex, Marriage, and What a Pharisee Is (Church, Mar 17, 2019)

At Church, Jesse wore his "Stop Having Sex Out-of-Wedlock" T-shirt, available from Jesse Lee Peterson's Teespring store.

At the beginning of the service, Jesse warned people that some come to church with a personal agenda, to promote their business, or their own belief and ideology. First of all, they shouldn't do that. But if you fall for it, don't blame Jesse or BOND!

Jesse reads some facts about cell phones and people who are "addicted" to their smartphones.
SEX, RELATIONSHIPS, AND MARRIAGE
During the course of the meeting, two couples in particular stood out, each admitting that they lived together. In one case, the woman was 12 years older than her boyfriend — which Jesse said makes a mama-and-son relationship! She also had a 12-year-old child from a previous marriage.
One man with a woman was never raised with Christian values, and now agrees that they should do it right. Some of the couple talk about why they lived together without being married.
One couple was together for a long time. The man wanted children early on, but the woman wanted to pursue her education and career. He thought he'd wait for her to finish her pursuits, but now she's 35 and he's concerned about the health of a potential baby at that age. Jesse tells them not to believe the idea that women can't have babies at that age — because it's not necessarily true in her case. But he said he might have split up with her had he seen more clearly early on that she did not want kids. This shocked the woman and she started to cry.
More people talk, including young guys in their teens visiting from out-of-state, as well as a father and daughter, and others.
BIBLICAL QUESTION: A PHARISEE
Jesse discusses the Biblical Question from last week: What does the term Pharisee mean? Many people believed that it is others than themselves — teachers seeking after knowledge and trying to catch Jesus with trick questions, or religious leaders who do not practice what they preach. But Jesse made the point that it is anyone with anger. Christ said that the Pharisees cleaned the outside of the cup, but did not clean the inside of the cup. Anyone with anger has not cleaned the inside of their cup.
CHRISTIANS, SPEAK UP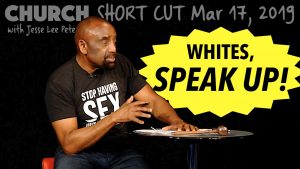 Watch 8-minute excerpt: New Zealand Reaction an Attack on Whites, Christians
Lastly, Jesse talked about the Christchurch, New Zealand attack, in which a white man allegedly shot and killed 50 or so people at a couple of mosques there. The media and governments are against Christians and whites, and ignore the attacks on them. They use attacks on Muslims as an excuse to blame whites and Christians. Jesse called on whites and Christians to speak up against the attacks against them so that they do not become angry and lash out in the wrong way as this man did. And never, ever care about somebody's feelings! 
—
SILENT PRAYER: http://silentprayer.video | AUDIO https://soundcloud.com/rebuildingtheman/silent-prayer
CHURCH Sunday 11am PT (1pm CT / 2pm ET) https://rebuildingtheman.com/church
COUNSELING at BOND https://rebuildingtheman.com/counseling or call 323-782-1980   
BOOKS http://bondinfostore.org