27 Jul

Who Do You Want to Be? 'More Than Conquerors' (10/6/13)

What do you want to be? Through God, "we are more than conquerors," but Christians today are losing! Intellectual knowledge is not enough. 

VIDEO: YouTube Premiere 4 PM PT Weds. 7/27/22 | ALSO SEE: Odysee | BitChute | Rumble | Other services at links below

AUDIO: Apple | Spotify | Castbox | Podcast Addict | Amazon | Google | Stitcher | Deezer | iHeart | TuneIn | RSS feed | SoundCloud

BOND Archive Sunday Service, October 6, 2013: Jesse Lee Peterson asks people what they want to be, who they want to become. Some talk about careers and not knowing what they want, even as adults. Since childhood, Jesse wanted to be a son of God. God puts the desire there. But what's holding people back? Jesse lists anger, fear, laziness, preoccupation with sex, lack of money, doubt, poor health, and repeated error. Romans 8: 31-39 says "we are more than conquerors." We have the power, but people don't love God. Learning "the truth" intellectually is not enough. Forgive and pray.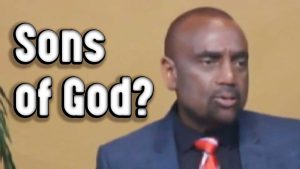 TIME STAMPS
00:00 Sun, Oct 6, 2013
00:27 What do you want to be?
14:41 JLP: A son of God
18:03 JLP: What's keeping you?
25:14 Romans 8: 31-37 (later, through 39)
28:05 More than conquerors; Love God
33:57 With power, you don't need many
44:32 Learning and knowledge is not enough
51:03 We have the power
54:03 Work together: Spiritual battle
Throwback Sunday Services premiere on BOND YouTube channel Wednesdays at 4 PM US Pacific Time (7 PM ET).
BOND INFO
Church with Jesse Lee Peterson is live every Sunday 11 AM U.S. Pacific Time at BOND in Los Angeles. Watch/listen online or join us in-person. Doors open at 10:30 AM. Church streams 11 AM through 12:30, Pacific Time. https://rebuildingtheman.com/church
Contact BOND to schedule counseling, set up monthly donation, order books, or join our mailing list: Call 800-411-BOND (1-800-411-2663) or office 323-782-1980, hours Mon-Fri 9-4 PT (Los Angeles). https://rebuildingtheman.com/contact
CHURCH LINKS
AUDIO PODCAST: Apple | Spotify | Castbox | Podcast Addict | Amazon | Google | Stitcher | Deezer | iHeart | TuneIn | RSS feed | SoundCloud
VIDEO ARCHIVE: OLDER Services (2008-2010+) | RECENT Services (2016-present)
WATCH LIVE on YouTube | Facebook | Twitter | DLive | Trovo | Twitch | Odysee
LISTEN LIVE on Jesse Lee Peterson's radio player during Church on Sunday
SILENT PRAYER: SilentPrayer.video | Audio on SoundCloud
—