26 Jul

Are You a Man of Power? (Church 7/26/20)

Church with Jesse Lee Peterson, Sunday, July 26, 2020: To the once-suicidal man: Stay out of your head. Question: Do you avoid Western doctors? To men and women: Men, stop paying for women, for clothes, trips, and expensive meals! All thoughts are lies. Biblical Question: Are you a man of power? Jesse answers! To Christians: Forgive your mother and father; it's cowardly to just "pray" and forgive "in your heart." That's Bible thumper stuff, and a lie. New Biblical Question: What does it mean to be in the light?  
Beginning of Church
At the beginning, we hear from the man from a few weeks ago who had been contemplating suicide. Jesse tells him to stay out of his head, and to keep doing the Silent Prayer morning and night. He told a news reporter in an interview that he was suicidal, yet he hoped to get an interview from getting in the news! Stay out of your head. 
How many people don't go to doctors? Lots of people do not! Some look things up online, or look to natural medicine, or just stay healthy in general. Jesse talks about home remedies from when he was growing up. One friend said it's spiritual, but there is the physical too! People talk about Lyme disease and Alzheimer's, and how many doctors don't know how to treat it. Some would go to alternative medicine, but they don't take insurance! 
Men paying for women
Guys, do you pay for things for a woman you're dating? Many, especially whites perhaps, pay for a girlfriend or date to go on a trip, and pay for everything! It's for sex. They've paid for clothes, hair, etc. Ladies, what made you take the money (and gifts) from a man you're not married to? No morals. After feedback, Jesse tells of a woman online demanding money from a certain man to take care of her period. Even $120 was not enough, so he finally went off. She was first before God. Stop it, both men and women! 
One guy's girlfriend was from a rich family, so he was treated a lot! And don't take pictures. Many people take naked pictures. 
All thoughts are lies
We take a couple of calls. 
How many are convinced that all thoughts are lies? Why are you not convinced that every thought is a lie? The Bible says to take every thought into captivity to the obedience of Christ. One Bible thumper guy doesn't know where in the Bible it says that God's voice is a voiceless voice. He actually says that it's not there, so he does not believe it. He only believes it if it's said in the Bible. This was a brief exchange. 
Are you a man of power?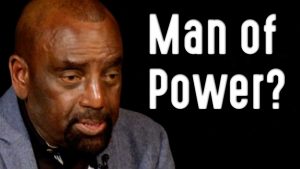 Biblical Question: Are you a man of power? ("Man" means "woman" too.) Different men and women respond. One guy Samuel (who does great auto-detailing) says that he can do anything he puts his mind to do — but not to build a flat earth. A caller Josh from Georgia calls himself a beta. What is your power from? If it's from God or Christ, then are you not a man of power? One lady says she can be and can sometimes not be. 
(Timestamp 1:30:00) Jesse answers: People have turned their lives over to people they feel are powerful people. They'll wear a mask if told to. You're listening to people and making them believe they're men and women of power when they're not. Any who think they're a man of power are on an ego trip. They've destroyed you by perverting you, separating the races, taking God away from you. Now that you're weak, unprotected by God's wall of morality, they come back in to save you like they're powerful people — when they're not. 
Build a wall of character and morality that is strong. They brainwash you, take the fathers, the man, out of the home. Make the government out of the home. Make the woman think they're equal to the man. They make men feel like they're all rapists and molesters. Return to God. People who think they have power, don't. They have to intimidate you. 
Do the Silent Prayer. Return to the Father. He will guide you in all things. You'll have a relationship with character, with what is right first. You won't have the fear of losing something. Jesse touches on the men and women issue from before. 
Forgive your mother and father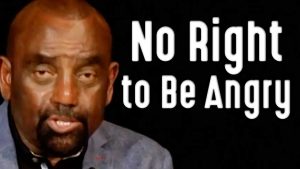 We take a caller Mike from South Carolina, who says he resents his father for what he did to his sister. 
Last questions and points
A young man asks about telling people that racism does not exist, when they don't get it. 
He also asks questions on behalf of his brother who could not make it today. He asks about crying. 
Finally, Jesse tells about how you find yourself not giving into those impulses and overreactions that used to control you. You have to be right and do right. Stay with the Silent Prayer; speak up, but don't resent. 
New Biblical Question: What does it mean to be of the light? Are you of the light? 
When you doubt every thought. It's the same thing as when it says: Resist the Devil, and he will flee from you. 
All men are sons of God, even when Satan is their daddy and they're beta males, weak men. 
CHURCH LINKS
PODCAST: Apple | Spotify | Castbox | Podcast Addict | TuneIn | Stitcher | Google | Deezer | RSS feed 
VIDEOS: Sunday Services (2008-2009+) | Church with Jesse Lee Peterson (2016-present)
LIVE: YouTube | Facebook | Periscope | DLive
SILENT PRAYER: SilentPrayer.video | Audio on SoundCloud
BOND
CHURCH rebuildingtheman.com/church
COUNSELING rebuildingtheman.com/counseling
MAILING LIST rebuildingtheman.com/subscribe
STORE rebuildingtheman.com/stores
DONATE rebuildingtheman.com/donate
CONTACT: 800-411-BOND (which is 1-800-411-2663) or 323-782-1980