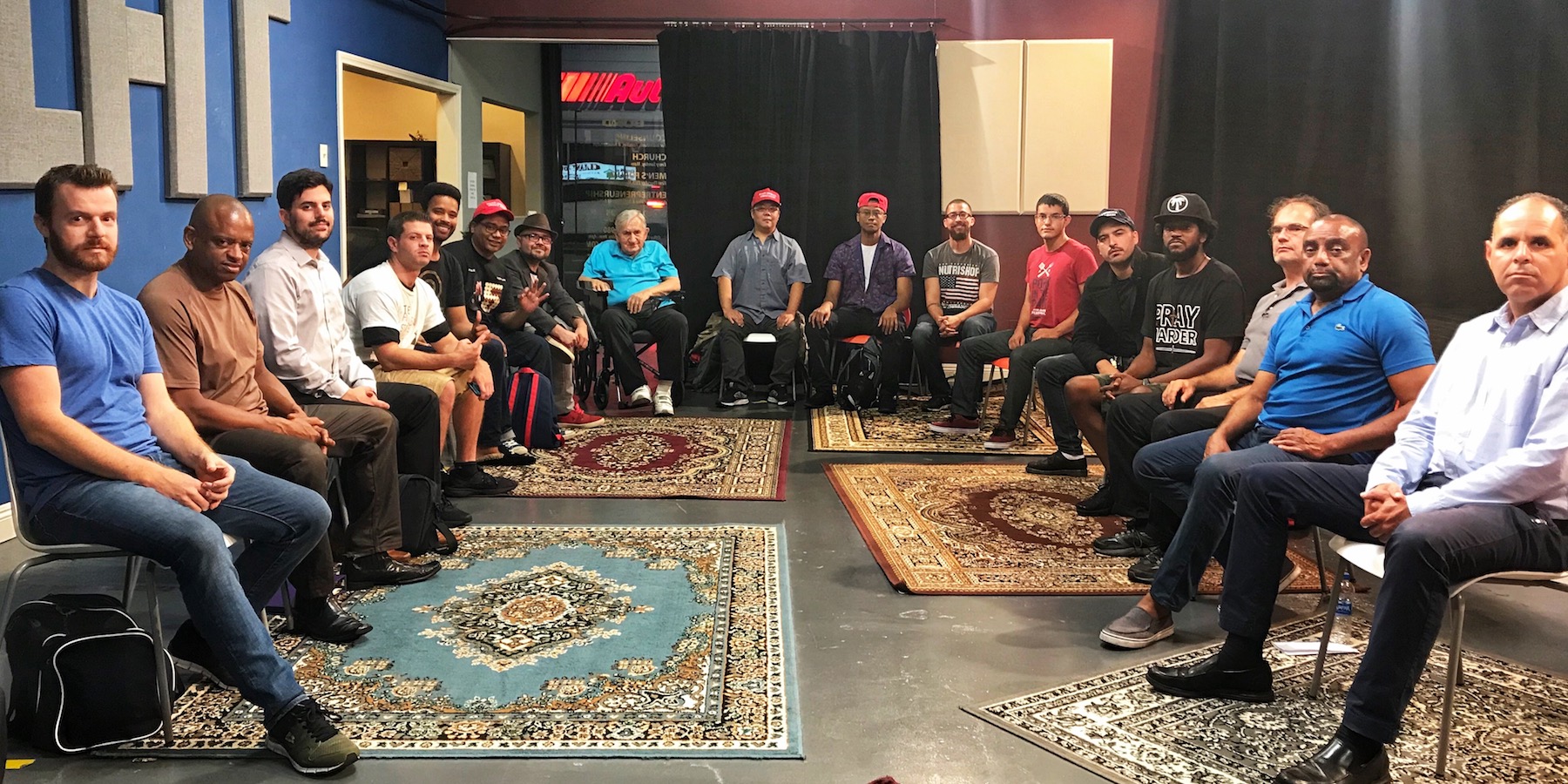 05 Oct

Men's Forum Report (Thur, Oct 4)

At our Men's Forum for October, young men talked about their mothers' effect on their lives, and how women control them. They talked about facing their parents and forgiving them. We should want for nothing, only seeking the Kingdom of God. 

We had a good turnout, including a man who flew in from Atlanta, along with his brother, and two men visiting from Chicago. A couple of the guys take the bus in from far away as well. As usual, many of the guys were newcomers. 
Finding God after "mama"
The first man to speak said he grew up with a single mother who'd physically and mentally abused him. He'd be overly concerned about not displeasing people afterward. As a young man for a couple of years he got involved with an older woman before coming to his senses, and realizing he did not want to waste her time. He worked on making amends with people he'd offended. He became a Christian after Trump "red-pilled" him — helped him see the truth clearly in a way he had not before.
Another man said that he first picked up anger from his father, who would not give him approval, but would talk down to him. He was very close to his mother early on, and finds her easier to talk to. He could see what Jesse was saying in discussing that women control weak men. The man admitted he had anger, although he did not at first see the problem with it. Jesse made the point that it is not normal or right for a man to have anger. 
Young men discover Jesse via YouTube
Many of the young guys found Jesse on YouTube, particularly from his talk show The Fallen State, on which he's interviewed Black Lives Matter, celebrity Amber Rose, and others. Some also first came across him from a series called "Jesse Lee Peterson SAVAGE Moments." These are video compilations edited by a fan of Jesse's radio show, Church, and The Fallen State. This fan's YouTube channel is called Get A Job.
The men from Chicago talked a little about the political insanity and the unchecked violence in the city.
We went around the room introducing ourselves and answered some questions about our lives. To some longtime BOND guys, he asked if we're getting better. Some are, particularly those who are committed to prayer. Others have made work or other things more important, and suffer in some ways for it.
Man forgave angry mother and dying father
One man described a dramatic experience with going to forgive his mother, who did not want to accept any responsibility for the things she did wrong. He had voices in his head telling him not to confront her or talk to her, and at one point on his way to her he turned around. But after he mustered the courage, he told her that he was angry with her because she raised him and his siblings with anger. She denied it, insisting that she raised them right. But he pointed out that it was with anger. He described how it affected him, but that he no longer holds it against her.
The man also went to his father shortly after his dad had an accident. He hesitated the first day visiting, and then the nurses did not want him in there long. But he insisted on ten minutes with his father. He told him he did not resent him, but that he needed him growing up and wished he were around more. His father had another family, and worked and drank often. The son told his father not to worry about it, as they both recognized they could not change the past. His father called him again before he died to wish him well in life. Unfortunately the other brothers did not take the opportunity to go and reconnect with their father before his death.
Dealing with women and passions
Some of the guys talked about dating, marriage, and children. A couple of guys asked for advice in dealing with women they were interested in. Some dealt with desires and passions that can take you off your course.
One man has attended Church and Men's Forums for about four months now. Since forgiving his mother and father, his life, relationships, and children have changed along with him. Before knowing Jesse, he'd been with his girlfriend 16 years, and had two children with her. After he forgave, he stopped sex out-of-wedlock, and his girlfriend eventually forgave her parents as well!
Want for nothing.
Jesse went around the room asking the guys what they want. Some wanted to please God, to continue on the right path, while others wanted improved health or physical things like land or career. Jesse urged them afterward: Want for nothing. Seek first the Kingdom of God, and his right way. Relax and live your life. Don't let anything become too important to you, whether it's a vice, a habit you wish to get rid of, or a girlfriend or wife, job or money. Do the Silent Prayer. If you're more comfortable doing spoken "whooping and hollering" prayer, then do both! You will see the right way to go.
Silent Prayer http://silentprayer.video | audio https://SoundCloud.com/rebuildingtheman/silent-prayer
Donate to support BOND https://rebuildingtheman.com/donate
Join us for Church https://rebuildingtheman.com/church