17 Nov

What Do You Believe? (Church 11/17/19)

(VIDEO BEGINS AT 5:39 — PARDON THE TECHNICAL AUDIO ISSUES FIRST FEW MINUTES OF VIDEO…)

New babies! Working out at 70! Great Content of Character Series event in Fremont, CA yesterday! What do you believe? We discuss the biblical quotes: "If you confess with your mouth…" and "Faith comes by hearing…" People call the Bible the "word of God." Let no man teach you! Jesse refuse to answer last Biblical Question: Was Christ created? Women's Forum third Thursday of the month! 

Church on Sunday, November 17, 2019, streamed live video 11 AM PT on YouTube, Facebook, Periscope, DLive, Twitch, and Mixer. 

Listen to Church audio recordings on Apple Podcasts, TuneIn, Spreaker, Stitcher, and SoundCloud. 
Congrats on Baby!
First Jesse Lee Peterson congratulated friend of BOND Lock Your Door and his wife, Mrs. Lock Your Door, on their new baby! (Another young married couple at BOND is expecting a baby any day now.) 
Jesse also talked about working out with a bodybuilder and trainer who attends Church. He makes you work — he said that Jesse works harder than most people, and is in amazing shape at age 70. Jesse made fun of some of his producers who've let themselves go — Nick trying to do a pushup. 
Thank you to the Content of Character Series group who had Jesse speak in the Bay Area yesterday (Saturday, Nov 16). It was an amazing time! Nick, Jesse's producer, also went. 
What Do You Believe? 
Jesse asked the question: What do you believe? (He accidentally said at first, "What do you believe in?" But he meant to leave out the word "in.") People said they believe in love, faith, God, truth, prayer, responsibility… Some don't know what they believe. 
"If You Confess with Your Mouth…"
Jesse then asked several people about the saying: that if you confess with your mouth Jesus as Lord, and believe in your heart that God raised him from the dead, you shall be saved. Do you believe that? Some say yes, but that there's more to it. People have a hard time answering this, and Jesse senses tension. But it's not a test! We're fellowshipping! 
"Faith Comes by Hearing…"
People believe that they're saved, but life is still hell. Jesse asked how many people believe that "faith comes by hearing." 
Yesterday in Fremont, people tried to save Nick, who at one time was an atheist. But he realized evil is real after seeing the evil attacks on Trump. 
Jesse talked about what mothers do to their children, but mothers point at what the fathers did. In reality, fathers wronged the mothers, but not so much the children. It was not a reason to turn the children away from the fathers, as mothers do. Often people do wrong and excuse it by falsely believing the false teaching that you can be born again and still sin. This is wrong. 
There are two kinds of belief — belief of what you've been taught from the outside, versus belief from within, of revelation. Belief from without is what you get intellectually. 
Jesse says that he believes in nothing and nobody. You know without an outside source. Once you do that, you have no doubt, no fear, no worry.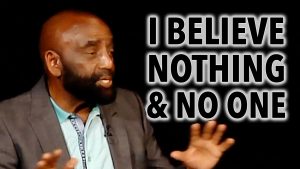 Watch 16-minute clip: I Believe Nothing, and No One
Let No Man Teach You
People frequently hold onto their wrong thinking by pointing to the Bible to justify their misunderstandings, calling the Bible the "Word of God." The Bible is a roadmap, but people make the map the "word of God." 
Let no man teach you. We're supposed to be examples. Christ was our example. He didn't go around teaching. So you should be a living example. 
Only God can cause you to be born again. It does not come from reading the Bible. You cannot make it happen. 
Last Week's Biblical Question
Several people wanted to hear Jesse's answer to last week's Biblical Question: Was Christ created? But Jesse said that he's not going to answer that. He does not want to teach you. He wants to fellowship. He wants to you seek and know for yourself. 
Announcements: Women's Forum Thursday 11/21/19
Women's Forum this Thursday, November 21st, 2019, at 7 PM at BOND, our current location in Los Angeles — third Thursday of the month! 
Thank you guys for joining, reading, listening, and watching! Support BOND — we are still raising money for our Building Fund. Make sure you do the Silent Prayer as well. 
—
SILENT PRAYER: http://silentprayer.video | AUDIO https://soundcloud.com/rebuildingtheman/silent-prayer 
CHURCH Sunday 11am PT (1pm CT / 2pm ET) https://rebuildingtheman.com/church 
COUNSELING at BOND https://rebuildingtheman.com/counseling or call 323-782-1980 
BOOKS http://bondinfostore.org