21 Mar

03/21/21 Human Anger Is Not God's Anger (Church)

TODAY'S SERVICE: YouTube | Facebook | Periscope/Twitter | Audio podcast at links below

Church with Jesse Lee Peterson, Sunday, March 21, 2021: Jesse briefly mentions the media lies about the recent Atlanta spa shootings, falsely blamed on "white supremacy." Are you afraid to speak up? How do you discern how to speak up in the right way? 

A man forgave his mother, who could not admit she was wrong. One lady believes that human anger can be the same as God's love. Her daughter does not like her mother imposing her will on her. But children of God do not impose their will on others. 

Jesse gives a monologue about anger and men who are afraid of women. A young woman took care of her family as a child playing the role of a parent, after her mother died. 

NEW BIBLICAL QUESTION: Collossians 1: 15-17 says that the Son is the image of God, the firstborn over all creation. What does that mean? 

Think on these things, and not your daily desires and needs. Stay with the Silent Prayer. Life is about living. Speak up, but don't resent. 
TIME STAMPS
0:00 Stream start

1:05 Opening questions

4:29 Asian spa attack

9:36 Afraid to speak up?

16:02 How to speak up?

19:51 Hard for women

25:15 Yelling is not anger

28:56 Man's God, woman's god

30:55 Knowing you don't know

32:29 Ladies react

35:05 A mother on God's anger

43:54 Daughter: Imposes her will

48:39 Super Chat Q's

50:18 Death penalty issue

56:21 Guy: Love is not emotion

58:36 Mothers, weak men

1:02:51 Forgive mother who died

1:04:18 Told wife his problems

1:07:39 Raised her family as a child – CLIP: Don't Put Your Problems on Women

1:14:33 Eph 4: 31-32 Put away anger

1:17:01 More questions

1:20:45 Every thought is a lie

1:23:24 Col 1: 15 on the Son

1:29:02 Armenian looks Jewish

1:30:23 Think on these things

1:32:53 Life is about living

1:34:18 For ladies and men

1:35:47 Overcome fear

1:36:36 Support BOND
Church Notes
(We started streaming just before 11:00 AM US PDT.) 
First, we welcome the first-time visitor, and then take questions. A young lady Adriana asks Jesse what kind of relationship Jesus had with his mother. She reads a short passage about the wedding banquet in which he turned water to wine, in which Mary came to Jesus with the issue. 
Atlanta spa shootings
Jesse recounts the shooting in Atlanta, GA, in which a white guy reportedly visited massage parlors and shot and killed people. Police reported he was "addicted" to sex, but the media cried "white supremacy." At this lie, Jesse realized that the liars want a race war. Black people have been attacking Asians in the streets, but they blame white people. So Jesse encourages you: Get over the anger, so you can react in the right way, and not play into the game. If they get a race war going, we'll lose all of our rights, and get a real lockdown. 
Many whites play along with this racism lie, as though they'll be immune to accusations. Christians are now sounding just like the children of the lie. There is no difference in the language. We cannot be part of evil. Speak up before it's too late, before you act out and do the wrong thing. They're also blaming Donald Trump for everything. 
Are you afraid to speak up? 
A first-time visiting young lady said speaking honestly that work and even joining us for church can be dangerous if malicious people find out. A relationship with a coworker changed after she said she voted for Trump, while the other person was a socialist. Jesse points out that the evil people find out what's important to you, and then try to threaten to take it away. 
How do you discern when and how to speak up in the right way? 
One man asks the purpose of speaking up — what's the end goal? In response, Jesse answers that young people see no pushback, but undergo such brainwashing in school, churches, etc., about "racism." Once they believe it, they're pulled into the other side. There are two sides to every story. It's a spiritual battle between good and evil. The truth needs to be expressed in order to defeat the lie. 
The man says in the past he used to quote-unquote "speak up," but it did not come from the right place. How do you get the discernment? Overcome anger, and you'll walk in the light. The light of God will give you the perfect thing to say and when. Whether the hearer likes it or not, no big deal. Be guided by the light. Jesse asks the man: Have you overcome anger? Do you believe you can overcome anger completely? In answering, the man talks about anger at a woman on the road. 
It's hard for a woman to admit she's wrong. 
This man says that he forgave his mother. He felt guilty at first at her loss of sleep over the conversation. But he soon realized it's not his problem. Jesse assured her that she understood, and that's why she couldn't sleep. 
11:21 Jesse repeats: The hardest thing for a woman to do is to admit she's wrong. Even the best of them! In contrast, the man's father said "thank you," as though he was waiting for it! But his mother compared his forgiveness to a bomb going off. She's a very nice person, and they avoid confrontation but make passive-aggressive comments. So he addressed her on her beating around the bush. 
The man does not do the Silent Prayer, but does pray as comes naturally to him. 
A different man thanks Jesse for the help last week (after he was disturbed, having played with a Ouija board). 
Some of the ladies respond to Jesse's statement that Satan is the woman's god, that Satan is the woman's daddy. 
A lady believes that human anger is like God's anger. 
One lady quotes a Bible passage from Numbers, in which God became angry and consumed some grumbling Israelites with fire. She says we have the attributes of God and must learn self-control of our anger. Jesse asks: Is there love in anger? She answers yes and no, and gives an explanation that Jesse calls insane (although she seems like a nice lady). He notes that it's proof that Satan is the woman's god. 
They talk about mothers turning children away from the fathers. Human anger is not the anger that God has. As children of God, we have discernment. When you have anger, you'll overreact. You cannot fight evil with anger, but with good, which is of God. 
Jesse asks her: Do you have anger? She says she does to some degree, although she is more of a forgiving person. But the answer is yes. Her father does too. She repeats that God gets angry. 
Children of God do not impose their will on others. 
The lady's daughter says that her mother tries to impose her will on her. That's anger, Jesse says. But the lady believes that it's love, and that the younger lady simply does not understand what love is. The lady comes from a Christian home, but the father did not. 
Jesse asks her: Do you think God wants you to impose your will on your daughter? She says yeah. Jesse repeats his question. She wants to change the word "impose" to trying to open up her daughter's understanding. Jesse says that a child of God would not impose their will on anyone. But Jesse understands. That's why you shouldn't listen to the woman; every time you listen to the woman you suffer. 
James reads a couple of Super Chat questions, and more people talk. 
Is the death penalty right? 
A young man says that he continues to disagree with Jesse's support for the death penalty. He feels it's illogical, because someone judged them. Jesse asks why it's okay for God to kill people, such as in Sodom and Gomorrah, but not us as human authorities? He seems to believe that if you leave a person alive, they have the opportunity to receive salvation. After the man begins to debate, Jesse moves on and asks him to call-in to the show. 
Another young man speaks up about anger and his understanding about it. 
Jesse gives a brief monologue about anger and fear-filled men 
Jesse then tells a story of a mother and daughter, and addresses the lady from earlier. He advises her and everyone that it's not love, but hate. Men, y'all are needed. You represent the sons of God. Men are afraid to speak up! Jesse's aunt once told him as a boy, you just be born again, love your father. 
Jesse answers a man's question: How do you forgive your mother if she's dead? Get to know yourself. 
When you know yourself, you can see others, the front they put on. You don't worry about anything, and life unfolds. 
The man who asked the question would complain to his wife, who's also here, about his problems. He thought it was normal, and wrong not to share secrets. He compares it to a cop admitting to being afraid to a a homeowner who called the cops. 
Jesse asks the man's wife how she feels about him no longer sharing his problems with her. She says that it's less stress. 
A young woman breaks down over family trauma.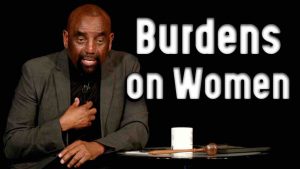 Another young woman, also a first time visitor, has apparently been making facial expressions of disagreement. She seems to agree about self-reflection. She meditates and takes time to reflect in order to help overcome anger. 
Jesse asks: How did she become angry? She lost her mother when she was young, and took care of her siblings and father. Pretty quickly, breaks down while recounting this. Now she says she forgave her father, and he reacted like his mother. To this day she experiences self-doubt, and tries to address it with self-talk. 
She expresses appreciation for this meeting. Jesse tells her that God will take the spirit of anger away. 
James reads another "Super Chat" via Streamlabs (donation message) quoting Ephesians 4: 31-32, telling people to let go of all anger and forgive one another as God forgave us. Jesse talks about the world and preachers lying to the people. 
Every thought is a lie. 
Responding to other questions, Jesse talks about God telling people to come into my presence. Life is about just living. Whether people like you or not, that's fine. Practice staying in the presence of God; stay out of your head. 
Every thought is a lie. Surprised by this statement, one of the ladies asks Jesse to explain how this is so. She never recalls Satan quoting the scriptures to her in her head. 
New Biblical Question
A Bible verse Colossians 1: 15-17 states that the Son is the image of the invisible God, the firstborn over all creation. What does this mean? 
Some people respond to this new Biblical Question. 
12:30 An Armenian man who looks Jewish gives his answer. 
Jesse encourages people to think on these things, rather than what to eat or wear, and God will provide for you. Seek the Kingdom at all times. Once you find it, stay with it. And He will renew your mind and take care of you. It's simple — not complicated at all. 
In talking with Holly, Jesse says that people skip over the best verses in the Bible. 
Closing
Do the Silent Prayer. Be still so that God can renew your mind. He loves you; he doesn't care what you've done in the past, but he cares about the heart. Life is just about living. 
In closing, Jesse says to the ladies: You should have a no-crossing line. "A man ain't that important." 
And to the men: Women aren't that important that you should let them beat you up, push you around, and cheat on you. If you try to make it happen, let it go. You are suffering unnecessarily. Women are like the bus; if you miss one, another will be along in a minute. Stop it. Relax. Enjoy life. You're not supposed to be suffering like this. 
Speak up! Don't let anything be so important that you won't speak up. This world is going down fast. The children of the lie in control of this world seek to change it for the worse. 
BOND INFO
Church with Jesse Lee Peterson is live every Sunday 11 AM U.S. Pacific Time at BOND in Los Angeles. Watch/listen online or join us in-person. Doors open at 10:30 AM. Church streams 11 AM through 12:30, Pacific Time. https://rebuildingtheman.com/church 
Throwback Sunday Services premiere on BOND YouTube channel Wednesdays at 4 PM US Pacific Time (7 PM ET). 
Contact BOND to schedule counseling, set up monthly donation, order books, or join our mailing list: Call 800-411-BOND (1-800-411-2663) or office 323-782-1980, hours Mon-Fri 9-4 PT (Los Angeles). https://rebuildingtheman.com/contact 
CHURCH LINKS
AUDIO PODCAST: Apple | Spotify | Castbox | Podcast Addict | TuneIn | Stitcher | Deezer | Amazon | Google | RSS feed 
VIDEO ARCHIVE: OLDER Services (2008-2010+) | RECENT Services (2016-present) 
WATCH LIVE on YouTube | Facebook | Periscope | DLive | Trovo | Twitch 
LISTEN LIVE on Jesse Lee Peterson's radio player during Church on Sunday
SILENT PRAYER: SilentPrayer.video | Audio on SoundCloud