21 Jun

Would You Lay Down Your Life for Your Enemy? (Church 6/21/20)

Church with Jesse Lee Peterson, Sunday, June 21, 2020: Happy Father's Day, fathers! A man and woman at Church are living together. A Mexican man Samuel speaks on his relationship with his mother and father. Caller William in Ohio wants to remarry, but has an 11-year-old son. … Do you continue to sin after being born again? 1 John has verses on it. A young man from Iran forgave his mother. Don't judge yourself if you have sex out-of-wedlock. Biblical Question: Would you lay down your life for your enemy? There's a lot of resentment with the rise of BLM. 
Topics
NOTE: Timestamps below are for the VIDEO (not for audio podcast… Subtract about 45+ seconds for audio podcast timestamps).
0:45 Intro music
1:30 Happy Father's Day! 
3:25 A white father, married to a black wife, asks about praying… 
11:52 Lisa's son brought her… 
14:15 A man and woman living together unmarried…
26:16 Samuel, an auto detailer, speaks on his mother and father. 
31:43 William in Ohio has an 11yo son and wants to remarry. He's a drinker so he doesn't do the silent prayer at night. (Another guy Eric smokes pot!) Is there a difference between forgiving others and forgiving yourself? You can't judge yourself either. 
40:42 Steve in WV on speaking out, losing friends… 
45:52 Freeman found Jesse via Savage Moments! He cried trying to forgive his mother. Silent Prayer. 
55:55 This is gonna be the best day of my life! 
59:14 A man who doesn't have feelings! He has a friend in an abusive marriage. 
1:02:08 A black father from Phoenix, and son from Indiana! 
1:07:22 A man mentions E. Michael Jones…
1:10:41 Do you continue to sin after being born again of God? 1 John talks about it. 
1:13:26 Grace talks about TV commercials, men and women. 
Biblical Question and more

1:15:41 Initial responses to Biblical Question
1:16:52 Iranian young man answers the Biblical Question, then thanks Jesse for a changed life. He forgave his mother, and no longer fights. He is a slutmaker sometimes though. Don't judge yourself. 
1:20:17 Slutmaking… If you have sex out-of-wedlock, how do you not judge yourself without accepting it? A strict Catholic asks about this.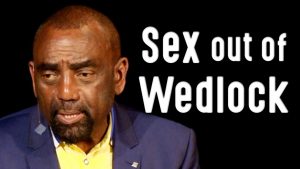 1:33:12 More feedback on Biblical Question…
1:36:09 Biblical Question: Would you lay down your life for your enemy? What does that mean? It came from Paul in Romans 9: 3. The Apostle Paul said he'd perish that others might be saved, including those from Israel who wanted him dead. Your enemy is your neighbor, who may have ill-will toward you, who may secretly resent you. 
1:38:25 Spoke up about BLM, now resents his friends on the right. He talked to his HR dept at work who gave a reading list supporting Black Lives Matter. He encouraged supporting rebuildingtheman.com His coworkers who are conservative won't come to BOND or listen to Jesse Lee Peterson. They try to egg him on to fight their enemies. Anytime you go to war, expect to stand alone. Whatever happens, stay away from the temptation of anger. …Get rid of all expectations, and just be. 
1:47:49 New Biblical Question: What do you have that you have not received? Uriel answers it perfectly. Everything he has he received. He forgave his mama. He's 27. 
1:50:31 More feedback about friends: The rescuer becomes the victim. 
1:51:27 Announcements… Straight Pride, join mailing list, final thoughts…
1:53:13 Thanks, all, for showing up! (…End) 
Links
PODCAST: Apple | Spotify | Castbox | Podcast Addict | TuneIn | Stitcher
VIDEOS: Sunday Services (2008-2009+) | Church with Jesse Lee Peterson (2016-present) 
LIVE: YouTube | Facebook | Periscope | DLive 
SILENT PRAYER: SilentPrayer.video | Audio on SoundCloud
BOND
CHURCH rebuildingtheman.com/church 
COUNSELING rebuildingtheman.com/counseling 
MAILING LIST rebuildingtheman.com/subscribe 
STORE rebuildingtheman.com/stores 
DONATE rebuildingtheman.com/donate 
CONTACT: 800-411-BOND (which is 1-800-411-2663) or 323-782-1980